Get inspiration on-demand with Campaign Templates
We're very proud that our clients have achieved big results using direct mail and gifting across their internal teams, including a 120% increase in meetings booked, 600% increase in response rates, 76% event attendance rate, and 60x ROI.
But when you're first setting out on your direct mail and gifting journey, it's important to get the foundations right and answer questions such as:
How do I know where to start?

What are the must-have campaigns that are going to get results for my SDRs?

What strategies work best for my AE team?

What gifts can my CSMs send to develop relationships with clients across different territories?
We know that when you buy a piece of software or try out a new strategy, you need to focus on the things that are going to help you see value quickly. This is why we're very excited to announce a brand-new expert-curated library of tried and trusted gifting templates - all set up in a few clicks. Campaign templates give you inspiration on-demand: covering a wide range of use cases and countries, and making it simple to set your teams up with relevant and effective campaigns.
No matter if you are new to direct mail and want guidance building your first campaigns or a seasoned gifter looking for fresh ideas on how, what and when to send, Campaign templates will level up your gifting and direct mail strategy and make sure you see maximum adoption from your teams and minimum time-to-value.
The templates are all built using a blend of powerful data-driven analysis of the most effective campaigns, and our in-house expertise in messaging, budget and gifting. The result is a comprehensive package of campaigns that help all your teams achieve their goals and drive user adoption.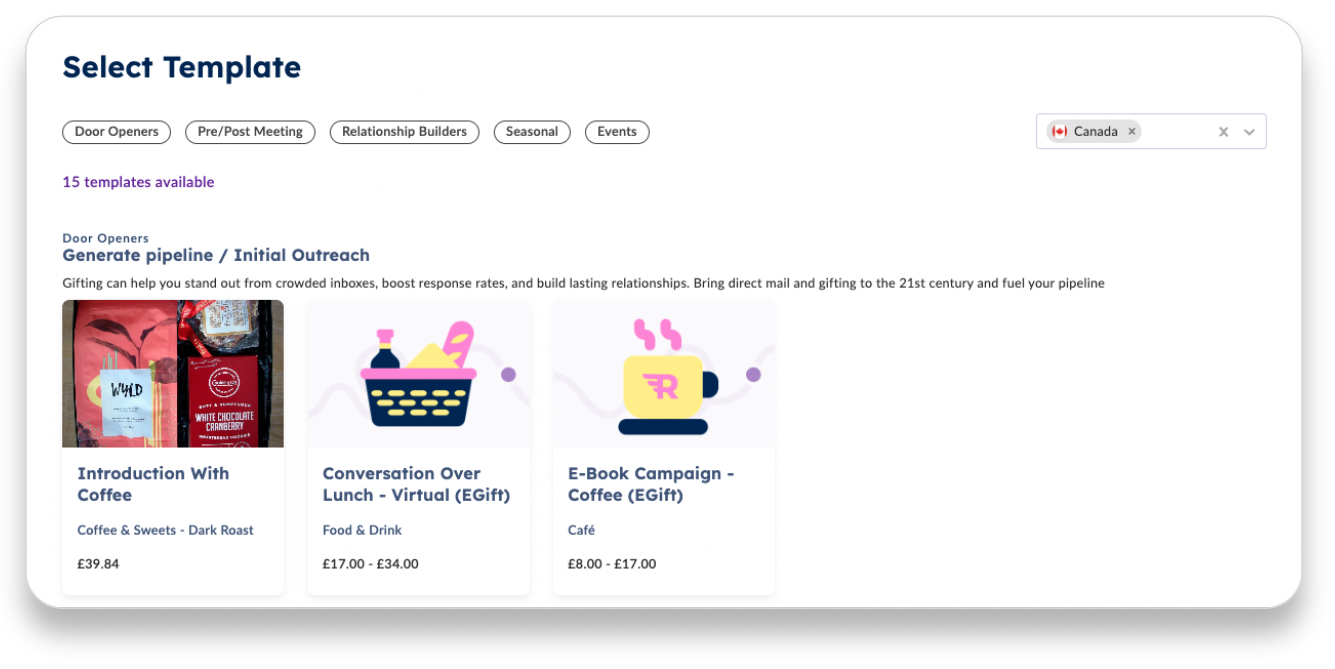 However, we recognise that different approaches work for different businesses and industries so our templates take a best practice approach rather than trying to make one size fit all. Suggested spend, gifts and messaging are all editable so you can precisely tailor your campaigns to your tone of voice and budget.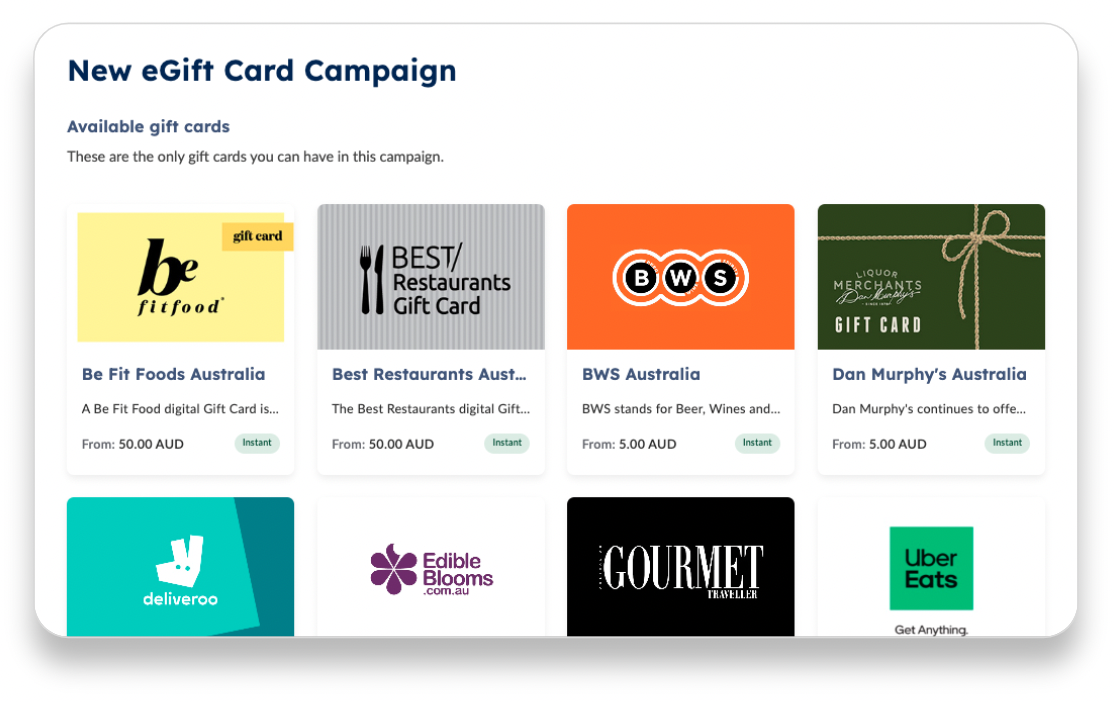 As the leading global direct mail and gifting platform, we have extensive experience of building campaigns all over the world. We cover more than 170 countries so whether you want door-openers in Denmark, relationship builders in Romania, seasonal sends in Singapore or eGifts in Egypt, we've got you covered with relevant templates that break through the noise, no matter where in the world you are sending.
It's quick and easy to get set up with new best-practice campaign templates in a matter of minutes.
Choose which country you want to create a campaign for. Lean on our global gifting expertise for locally relevant campaigns that speak to your recipients, no matter where in the world they are.
Select your campaign from a range of different use cases. Templates are grouped into several categories covering a variety of specific purposes, events and moments, making it simple to find an appropriate campaign for each of your teams' goals.
Review your new campaign before making it available for your senders to use. Templates are ready to use off the shelf with budgets that are preset with a guideline spend amount, along with a suggested category of gift and ready-made messaging. However, you also have scope to tweak and edit any aspect of the campaign, making it unique to your needs. Once you're happy with it, simply save it and it is ready for your teams to use.
Reachdesk campaign templates mean it's never been easier to generate more leads, book more meetings, win more deals and build more relationships. To find out more check out the support documentation or if you're keen to see it in action, then get in touch and we'll set you up a personalized demo with a member of our team.
Andy Willetts
Product Marketing Manager @ Reachdesk