Reachdesk Release Update March 23
We're back again with more fantastic features and enhancements to take your direct mail and gifting strategies to the next level. First up we have new functionality to make events a breeze, followed by some big time savers and a heavily requested new way of sending sized swag. Let's get into it!
🚢 In-app event shipping
Events are officially back with 75% of businesses now spending either the same or more on events than they did pre-covid1. Not surprising, when you consider that 81% of trade show attendees have buying authority and opportunities that come from trade shows tend to close more quickly than opportunities where contact wasn't made at a trade show2.

That's why we've added event shipping into the Reachdesk platform. You can now send your inventory items in bulk from Reachdesk warehouses to exhibition halls, hotels, office spaces and any other event venue through self-service.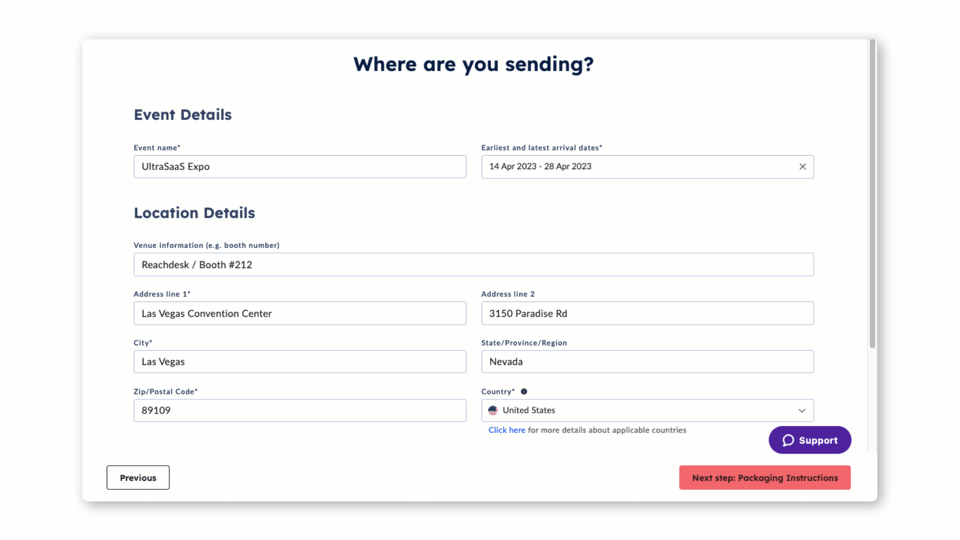 ​​On top of this, you can now view and track all your event shipping orders all in one place, giving you the confidence that everything you need will be at the exhibition hall, hotel or other venue when you need it.
Find out more...

Coupled with the launch of our Merchandise Builder last month, Reachdesk is every events marketer's new best friend!
🏃‍♀️ Express shipping for bundles

Deliver moments that matter, faster! You can now select express shipping for bundles sent from our US and EU warehouses (UK is already next-day), making it quicker and easier to expedite shipments and empowering you to choose your preferred shipping priority.
✅ Bulk Approve or Reject Pending Sends

Big efficiency gains for admins and campaign managers! You can now quickly approve or reject large volumes of pending sends in one go with our new bulk approve / reject functionality. This will help keep the amount of pending sends down, and reduce the average time a send is stuck waiting for approval.
👕 Sized swag in triggered campaigns

Reachdesk for People clients can now give their employees the ability to choose their preferred size, cut and colour of swag from triggered campaigns when confirming their addresses. Perfect for sending bundles of swag with sized items of clothing as part of onboarding packages or for company events.
P.S. We're also working on adding the capability to do this for manual campaigns and also rolling it out to the GTM version of Reachdesk so watch this space…
🛠 Enhancements
Tax ID capture at address confirmation - For sends to Brazil and other territories where a Tax ID is required, the ID is now captured from the recipient at the address confirmation step of the gift claim process.
Catalog page UX enhancements - Now when you scroll down on a catalog page (think marketplace, merch builder, etc) the category bar shrinks to free up screen space for even more wonderful items, while still giving you access to sort, search and filter functionality. On top of this, we've added a cool new button that takes you back to the top of the page with a single click.
Transactions page filter upgrade - We've changed the filters on the Transactions page to bring them in line with the rest of the app.
Transfer unclaimed balance from an inactive user or team to company wallet - We've tweaked how funds for unclaimed sends are transferred. Now when a pending send from a deactivated user or team is cancelled, rejected or expired, it goes straight back to the company wallet rather than back into the wallet from which it initially came.
As always, this new functionality comes from a blend of proactive innovation from our incredible tech team and co-innovation with our wonderful clients. Join us again next time for more fabulous features and enhancements to make it even easier to deliver moments that matter to your prospects, clients, partners and employees.
In the meantime, if you have anything you'd love to see in Reachdesk - or you have any questions - please get in touch.
---
1. https://www.exhibitoronline.com/topics/insight/IndustryUpdate9.28.22.pdf
Andy Willetts
Product Marketing Manager @ Reachdesk