Drive efficiency and maximize your ROI in 2023 with Reachdesk
In 2023 the ongoing landscape of financial uncertainty and shrinking budgets means that many sales and marketing teams are facing lofty goals and unprecedented scrutiny on effectiveness - all with less resource than this time last year.
Fortunately, we've been working hard on two major new features (and a handful of small-but mighty ones too) that will enable you to execute on your 2023 strategies by driving efficiency and focusing on the tactics that deliver the best return on your investment. All with the goal of helping you generate more leads, book more meetings, close more deals and build stronger relationships.
😍 Maximize your close rates with Recipient Choice
Data from across the entire Reachdesk user base shows that opportunities where a gift is redeemed are 1.44x more likely to end up closed / won. We also see that marketplace items are 2.7x more likely to be redeemed than eGifts - but eGifts make up 70% of sends compared to marketplace items, which make up just 15%.
We get it: picking the right gift is difficult enough when it's for someone you know really well. Selecting a specific physical item for someone you only know in a professional context is fraught with risk. What if they don't like it?
But what if you didn't have to worry about picking the right gift any more?
You can now keep your redemption and close rates high by giving the perfect gift every time with Reachdesk's brand new Recipient Choice feature.
By giving your recipients the ability to either exchange the gift for another item or donate the value of the gift to charity*, you can make being told "thanks, but no thanks" a thing of the past. Early results from our beta testing of this feature show that 48% of the times a gift was claimed, the recipient used Recipient Choice to choose something different.
*functionality coming soon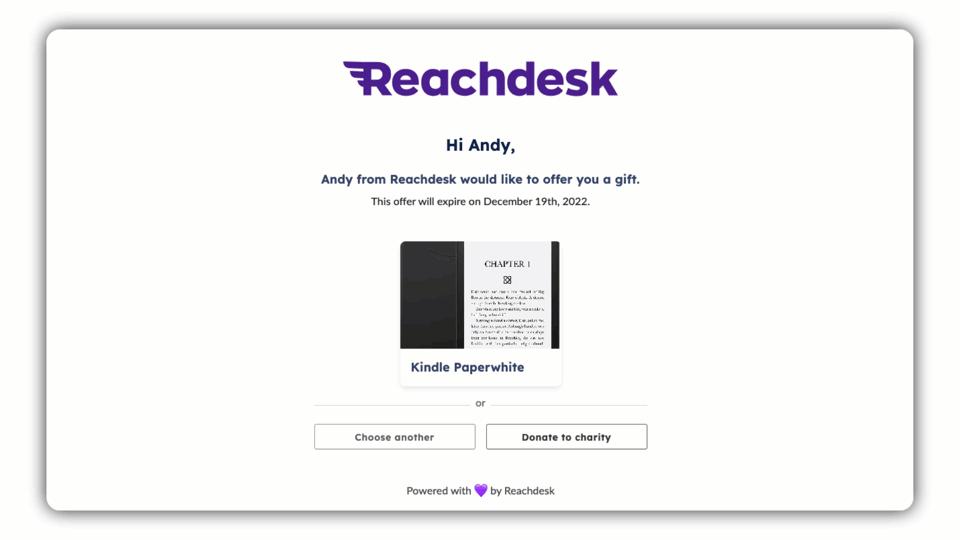 While the recipient is free to choose any alternative from the Reachdesk marketplace, covering a wide range of locally-relevant in-country vendors, your gifting budget is protected. The exchange is restricted to a gift of the same or lesser value so there's no danger they'll turn down the $30 box of brownies in favor of a $300 bottle of champagne.
And if your recipient works in a role, company or industry where they are unable to accept a gift, they soon also be able to donate the value of their gift to one of a selection of charities, enabling you to make stronger connections while staying compliant with gifting policies.
👕 Take control of your swag with Merchandise Builder
A company's brand can be one of its biggest assets. You spend lots of time, money, and effort building a great brand and you want to make it simple for your clients and fans to show it off to the world.
Branded swag is a great way to do this, with 70% of people saying that promotional products make their experiences more meaningful. Meanwhile our own data shows that bundle sends - typically including one or more pieces of branded merch - deliver higher close rates than either marketplace items or eGifts. And with almost two thirds of businesses planning to make greater use of trade shows in 2023, there's never been greater demand for branded swag.
Reachdesk Merchandise Builder is a brand-new self-service tool that makes it a breeze to design, order and re-stock branded high quality swag and merchandise to send to your clients, prospects, employees and fans.
With no set-up fees or minimum order quantity, Reachdesk Merchandise Builder means it's not prohibitively expensive to make small one-off orders of merch for specific events and one-to-few ABM campaigns, or create exclusive limited-edition swag drops for your biggest advocates.
There are few things more frustrating than needing swag for a last-minute event or campaign and not having what you need in stock. By ordering through Merchandise Builder the process takes half as long when compared with using our full project managed service. On top of this, we've made inventory management easier than ever with self-served re-ordering of previously designed items. Coupled with automatic low stock level alerts, you need never again worry about not having the merch you need.
💰 Configure user spend limits and send gifts using Team Wallets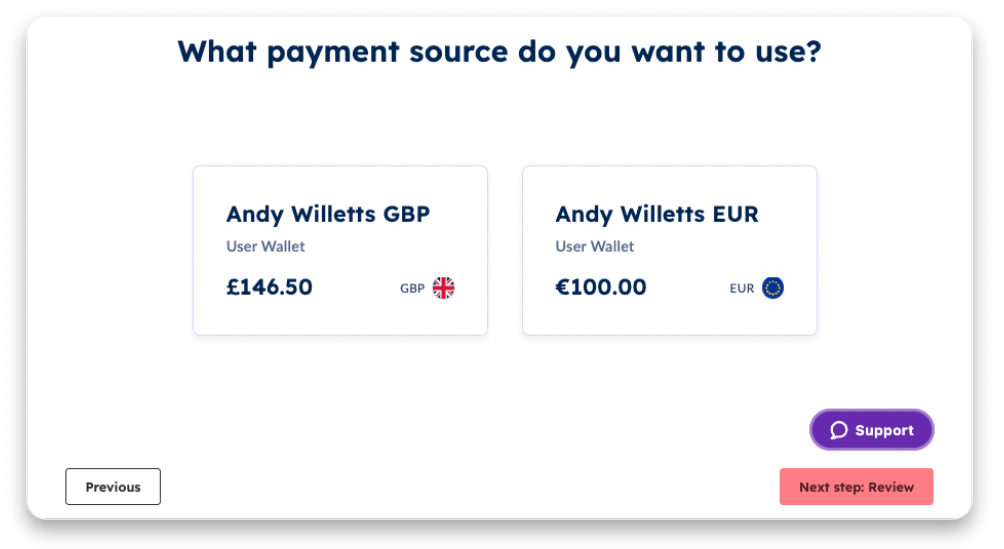 We've added even more flexibility around funding! You can now configure specific user spend limits against team wallets at any point in the month. We have also made it so individual senders are able to use funds from their team wallet to pay for gifts, rather than using their own wallet, which can be used for other budget / sending purposes outside of the allocated team budget.
🚨 Self-service low balance alerts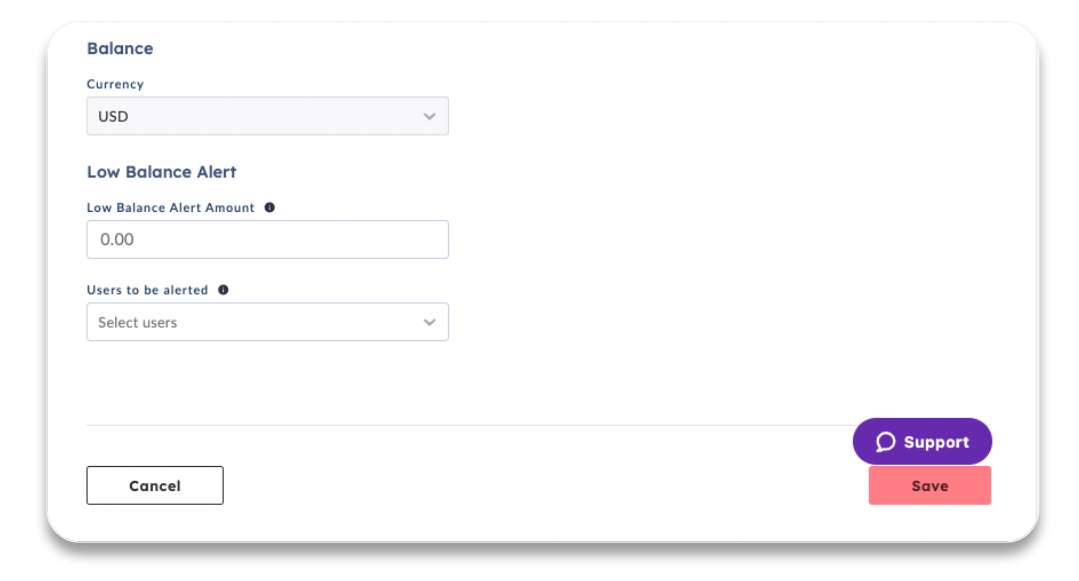 It used to be that if you wanted to set up low balance alerts for wallets you had to raise a request from our support team. However we have now put the power in your hands, enabling you to take control of alerts for user and team wallets and set them up directly in the platform.
🔎 Search your inventory

We've added a useful new search bar to the inventory area of Reachdesk which enables you to search what items you have in each warehouse. You can search by item name, description or SKU, making it easy to track down the items you want faster than ever before.
🛠 Enhancements
More flexibility around wallets - You can now filter wallets from the summary page and we have made it so admins can now create user wallets.
Show all employment type options in triggered campaign rules - The "employment type" field in Reachdesk for People now supports custom options as well as the standard ones listed in the product.
Clearer ship notice labels - we've updated the shipping labels for ship notices to clarify warehouse and client name
UI tweaks

- we've made it so the catalog filters are no longer showing by default freeing up space on the screen and moved Wallets and Transactions to the new Balances item in the left-hand navigation bar.
As always, this new functionality comes from a blend of proactive innovation from our incredible tech team and co-innovation with our wonderful clients. Join us again next time for more fabulous features and enhancements to make it even easier to deliver moments that matter to your prospects, clients, partners and employees.
In the meantime, if you have anything you'd love to see in Reachdesk - or you have any questions - please get in touch.
Andy Willetts
Product Marketing Manager @ Reachdesk