Reachdesk Release Update May 22
Some months are bigger than others. When it comes to releases, May 2022 was ENORMOUS for us and our clients. We launched and did so much amazing stuff that there's barely room to fit it all in this blog. Let's get straight into it:
💜 Reachdesk for People
We're hugely excited to announce the launch of Reachdesk for People: a brand new tool that enables people teams to use gifting to secure the best talent and minimise attrition, while creating an exceptional experience for employees and reinforcing your company's culture.
Its integration with your core HR system and automated sending eliminate the time-consuming manual parts of employee gifting, enabling busy people teams to focus on developing a culture of appreciation, supporting DEI initiatives, and other strategic value-add work. Find out more...


🔒

SOC Type II certification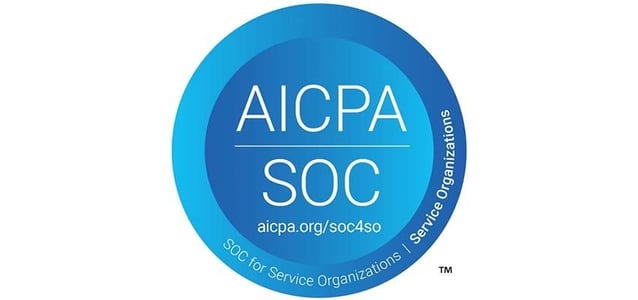 We take data security extremely seriously here at Reachdesk, and we're committed to protecting our clients' sensitive user information and privacy. Therefore, as of May 13th 2022, Reachdesk is certified compliant with the SOC 2 Type II standard for security, availability, and confidentiality. This means you can be confident that your data is safe and secure, minimizing your exposure to risk.


⭐️New features
😍 New send flow for eGift cards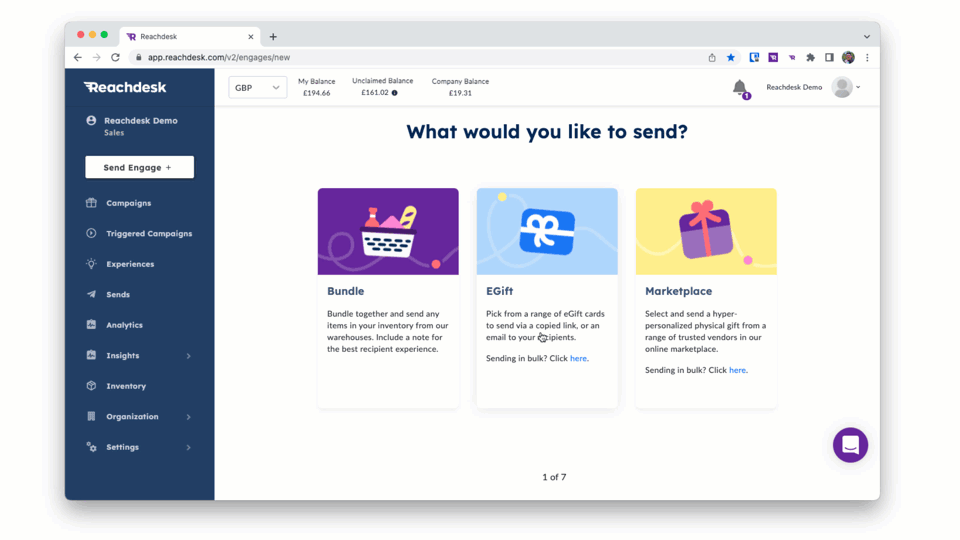 Following client feedback and extensive user testing, we've improved the send flow for eGift cards making it smoother and more intuitive for senders, making it easier than ever before to send eGift cards and resulting in fewer queries to your admins. Find out more...
🎯

Team objectives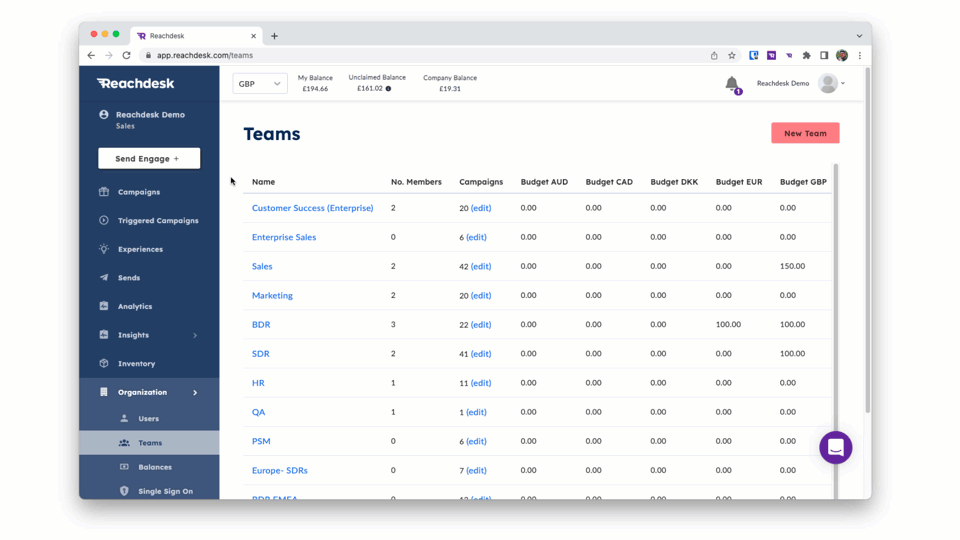 You can now assign objectives to each team you have in Reachdesk. This is the foundation of some awesome functionality we're working on that provides users with targeted recommendations and even more relevant insights, enabling them to make better decisions about their gifting. Find out more...
🔎
New Recipients tab in Reachdesk Insights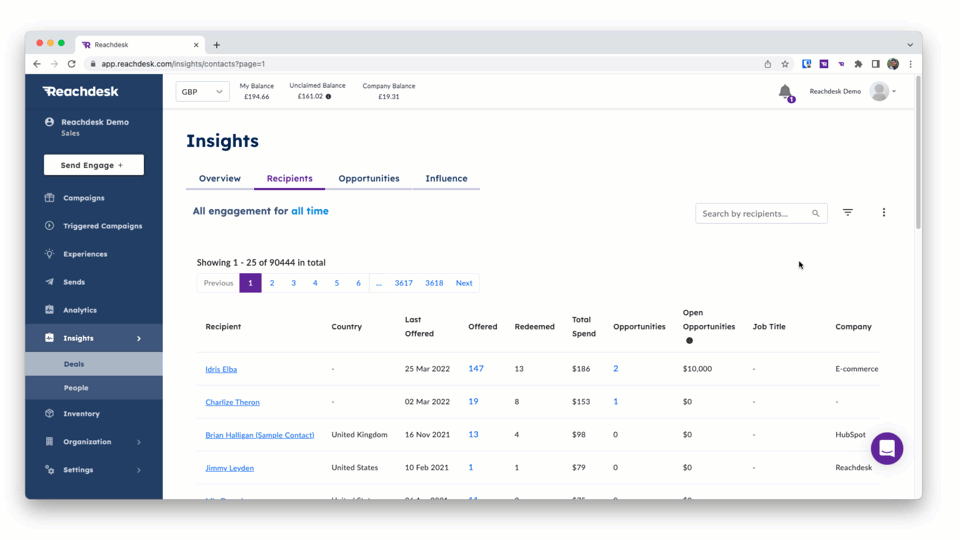 As part of our drive to give you the greatest possible insight into your gifting strategy and make better data-driven decisions, we've added a new tab to Reachdesk Insights. The new Recipients tab give you an overview of all outreach to every contact that has been offered a gift, enabling you to pinpoint potential problem areas, identify quick wins and make better decisions about your gifting strategy at an individual recipient level. Find out more...
🇮🇳 KYC verification for bundle sends to India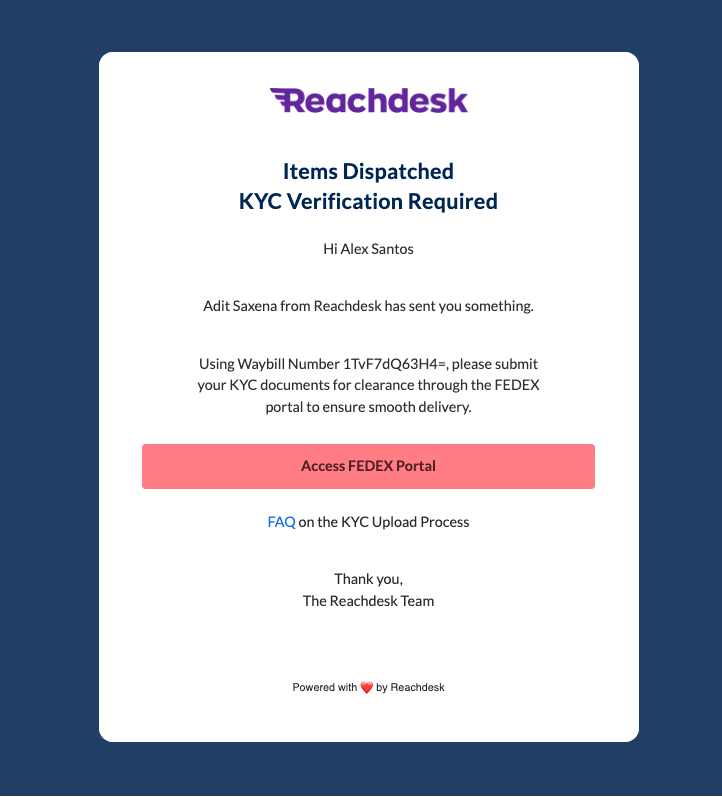 If a bundle is being sent to India, Reachdesk now automatically emails the relevant waybill number to the recipient, enabling them to submit their KYC documents to facilitate delivery. Find out more...
🛠 Enhancements
Campaign Manager inventory and ship notice permissions
We've added extra permissions around inventory management and ship notices to the Campaign Manager role profile, giving greater flexibility to perform campaign-related tasks and lessening the burden on your admins.
Show images against items in inventory page
You can now see images of your items on the inventory page.
Show images against items in bundle campaign
You can now see images of items when creating and viewing a bundle campaign.
Save marketplace filters in the URL
Users can now keep the results and filters from their searches from the Marketplace, these are now stored against the URL.
And there you have it - a host of amazing new features to get involved with. As always, this new functionality comes from a blend of proactive innovation from our incredible tech team and co-innovation with our wonderful clients. If you have anything you'd love to see in Reachdesk - or you have any questions - please get in touch.
Andy Willetts
Product Marketing Manager @ Reachdesk