Reachdesk and Chili Piper - a red hot new integration
Meetings are still an essential part of the sales process for most companies. Face-to-face contact - whether in-person or digitally - enables reps to build a personal connection with prospective clients, better understand their needs, and pitch their products or services.
However, the competition for your prospects' attention is fierce. At any given time sales reps from hundreds of other companies are also trying to secure time with your prospects. It has never been harder to break through the noise.
Enter Reachdesk. Sending a small gift as part of your outreach helps your reps stand out and make a positive impression on prospects all over the world, building better relationships and making it more likely that the recipient will accept the meeting and ultimately go on to buy.
But even if you use Reachdesk to help you break through the noise, any friction when it comes to booking the meeting makes it harder for the rep to move prospects through the sales funnel and convert leads to revenue.
That's where Chili Piper comes in with meeting booking links that allow sales reps to easily share their availability with prospects and schedule meetings without the need for back-and-forth emails or phone calls, saving time and making you easier to do business with.
For years businesses have been using Reachdesk and Chili Piper to book more meetings and convert more opps to revenue. But from conversations with our clients, we've realized that although they love the two tools, having to use them separately takes extra time and resource from the rep to manually follow-up with a gift after the meeting has been scheduled. This means they're wasting precious bandwidth juggling multiple tools when they could be spending time creating opportunities.
So that got us thinking: imagine a world that combines the sweet of Reachdesk with the heat of Chili Piper. A world where booking gifting-enhanced meetings is quick for reps yet slick for prospects. A world where a prospect could use Chili Piper to schedule a meeting and claim a Reachdesk gift all from one link...
Today we're very excited to welcome you to that world and introduce the red hot new integration between Reachdesk and Chili Piper.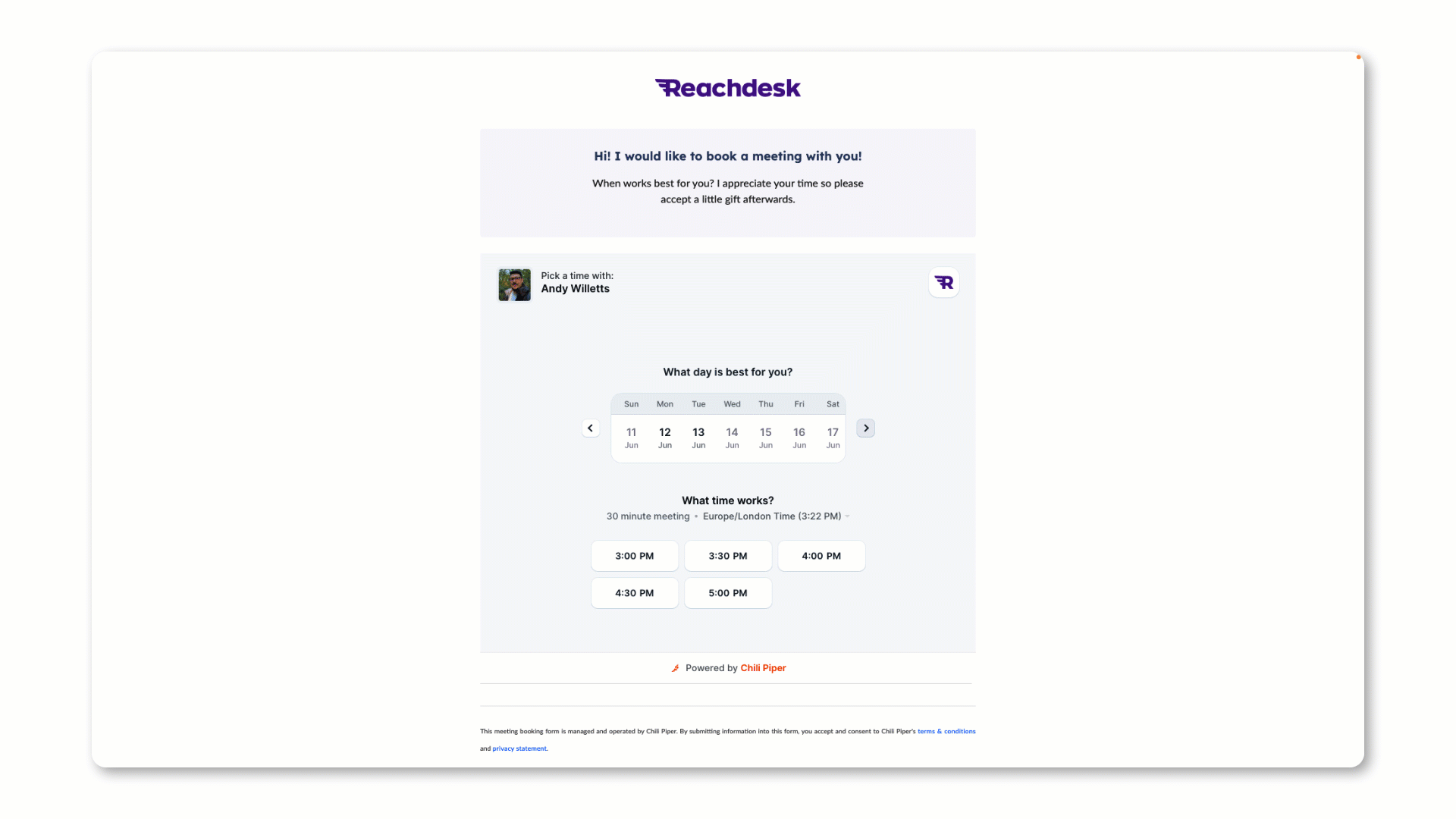 Integrating Reachdesk and Chili Piper makes it a breeze for your reps to include gifting as part of the meeting scheduling process, helping them:
Stand out in crowded inboxes

Be as easy as possible to buy from

Minimize no-shows

Maximize their bandwidth to spend on crushing their quota
The result is a seamless yet meaningful experience for your prospects that helps you convert more leads into opps and more opps into revenue.
Key Features and Functionality
⚙️ Fit into your existing workflows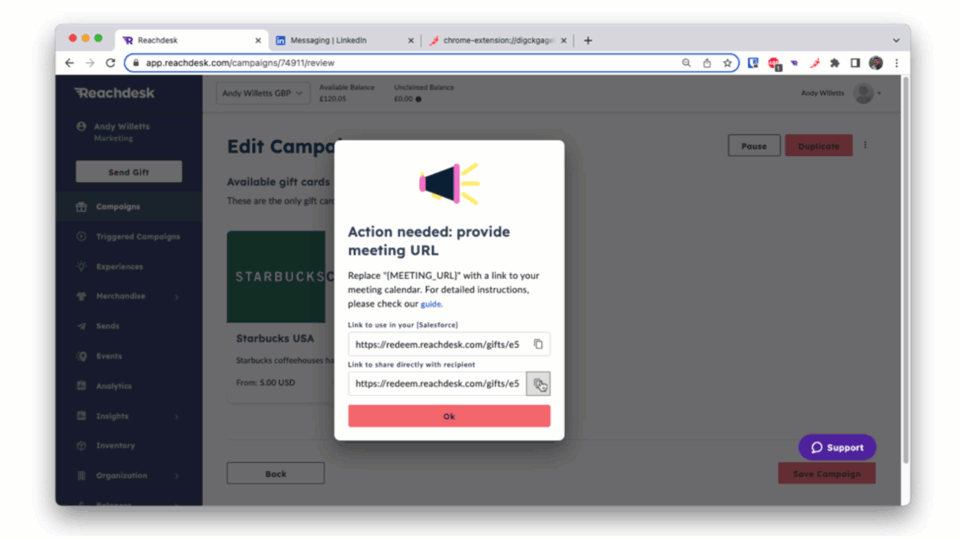 Send gifting-enhanced meeting booking links direct to your prospects through email, socials, In-Mail, etc or add them to your CRM automation flows to send links to multiple contacts at once, whether that be event attendees, target prospects, or groups of customers.
🌍 Extensive global gifting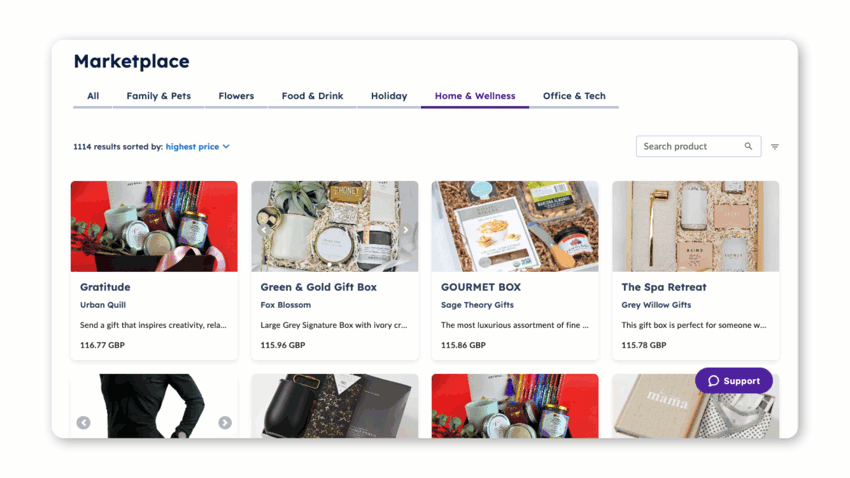 Choose from more than 5,200 physical items from Reachdesk's global marketplace, over 3,600 global eGift brands and branded swag from our worldwide network of warehouses to send to prospects across more than 170 countries as part of the meeting booking process.
💜 The perfect gift every time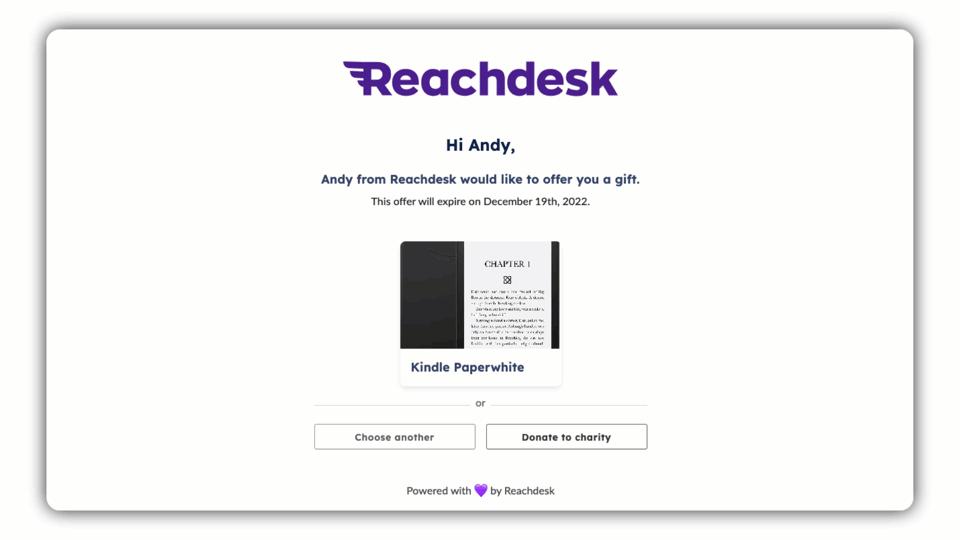 By giving your recipients the ability to either exchange the gift for another item or donate the value of the gift to charity, you reduce the chances of being told "thanks, but no thanks," and increase your win rates.
📅 Schedule meetings for colleagues
The integration between Reachdesk and Chili Piper gives your business development reps full flexibility to use their own booking links or those of an account executive to schedule a meeting on their behalf.
Sweet benefits for spicy business development teams
⭐️ Stand out in crowded inboxes
Your prospects receive hundreds of emails from companies trying to sell to them. Offering a gift as part of your outreach helps your reps break through the noise and secure more meetings with buyers.
🤝 Free your salespeople up to actually sell
Reachdesk integrates seamlessly with Chili Piper, making it easy to use gifting to book more meetings without interrupting your reps' workflows by having to juggle separate tools.
🫥 No more no-shows
Adding a Chili Piper link to a Reachdesk gift send requires recipients to book a meeting before accessing their gift, which identifies genuine interest in your product and can help increase meeting show rates.
🤖 Data-driven gifting
Reachdesk provides valuable engagement insights and granular reporting on the ROI of your gifting-enhanced meeting booking, enabling you to double down on winning tactics and offer coaching in areas of improvement.
Let's get started!
The integration has been specifically designed to be as simple to use as possible.
Use your Chili Piper booking link in your outreach or landing pages

Let your prospect choose a time and book a meeting with your rep

Automatically, without interrupting your workflow, thank the prospect for booking a meeting by sending them a thoughtful gift

Measure the impact and ROI...and repeat!

The integration is free to use for all Reachdesk clients that use Chili Piper's Instant Booking functionality and is enabled in your Reachdesk instance now, meaning you can start building and sending Chili Piper meeting booking campaigns today.
For full details of how to use this functionality, check out our help guide and feel free to get in contact with your client success manager if you have any questions.
Not a Reachdesk client but interested in finding out how it can benefit your sales operations? Click here to speak to our team.
Andy Willetts
Product Marketing Manager @ Reachdesk