Q2 Deskie Winner: Nexthink
Award season is calling and we're ready to announce our next Deskie Winner! If you are like "What the heck are the Deskies?!" Here is a quick run down - The Deskies were envisioned as a chance to get excited about the incredible campaigns our customers run using the Reachdesk platform. They are an opportunity to inspire, encourage, and create.
It's so easy in business (no matter how great it is) to focus on the next big thing and forget to give time to what's already been made and had impact. We see so much of what our customers do, but we realized there was a missing piece of community here where more of our customers could have insight into what others were doing to win together. We wanted to work more closely with the people we wouldn't be here without - our champions.
Introducing our winner
It didn't come as a surprise when we started to collect submissions for our Q2 awards that we received several fantastic submissions from varying industries, company sizes, teams, and campaigns! But, there can only be one winner. Say hello to Nexthink!
Nexthink awed our committee members with their simple, yet personal, and effective use case of our Reachdesk platform.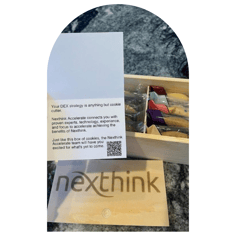 Their

gift was delightful,

utilizing one of Reachdesk's most used marketplace items, NOMS cookies!


The

messaging was anything but cookie-cutter!

It was well-tailored to the send and prompted their customers to be inquisitive and learn more.


A targeted and strategic approach allowed Nexthink to

influence nearly $1.9 million in total expansion opportunity

!
Kaitlin Dell'Erario, Global Demand Generation Team Lead for upsell, cross-sell and expansion, has done a Q&A with us so you can have an even better insight into the process behind a campaign like this, and the results they saw. Read all about it, below.
Nexthink's winning interview
Reachdesk: Can you walk us through the thought process behind the campaign and the creatives
Nexthink: This specific campaign was part of a larger integrated campaign supporting a product launch that targeted our existing customer base. We understood the customers we wanted to target with the launch and all of the integrated activities that were part of it. This allowed us to get super personal with the outreach that we used for the gifting campaign itself and for the creative we wanted to touch on the human element. Between the amazing NOM's cookies, the tailored "Anything but Cookie Cutter" messaging and the targeted list, we were really able to drive home the delight and human element.
Reachdesk: What was the timeline from creative brainstorming, building, execution & ROI?
Nexthink: From concept to ROI… probably three weeks. Because it's our existing customer base, we started to see ROI almost immediately after. We knew we wanted to include direct mail and the launch assets, so from there, it was really just picking the gift and getting the creatives together. Our customers are talking with our CSM and our sales team on a daily basis, so it was a quick turnaround for us to not only get positive feedback from customers, but to see those opportunities start being influenced by this campaign as well.
Reachdesk: How was the process of building this campaign with Reachdesk?
Nexthink: After a year of utilizing Reachdesk and having the dedicated CSMs share with us a handful of campaign options, we truly felt a triggered send would work best. We were able to get really granular with the filters we wanted to include for the audience. The Reachdesk and Salesforce integration allowed my team to be able to set up the campaign without having to utilize Marketing or Data Ops for support. It was really quite simple!
Reachdesk: Let's talk about the results. Can you tell us about the results you saw from setting up this campaign?
Nexthink: We saw upsell expansion comes through within a week of contact at those accounts receiving the triggered send and a number of customers who also received the cookie kit are in pipeline still, so there's a lot of impact to still be had with the campaign. As of right now, we're influencing nearly $1.9 million in total expansion opportunity.
Reachdesk: How was this campaign's results/outcome unique to others?
Nexthink: This campaign is unique because it's the first campaign that we've added gifting into some sort of product launch. It was just another great way to engage our audiences outside of an email or a webinar for product launches so definitely something we're going to keep in our arsenal for future ones.
Reachdesk: What did your customers/prospects have to say about this campaign?
Nexthink: The first thing a customer said when joining the next call with one of our CSMs was "We love the cookies and it was so creative and thank you so much!" The customer felt delighted! An important part of gifting to customers is relationship building and it definitely paid off in this campaign.
Reachdesk: What advice would you like to give to other teams building campaigns for the first time?
Nexthink: I'd say start small, but just start! We've been using Reachdek for over a year now and we've tested and tried out different types of campaigns, whether we're sending bundles, e-gift cards, or marketplace items, different gifts and campaigns work for different audiences and by testing out different scenarios, we've been able to find what works for us.
Also, working with our Reachdesk CSM has really helped us align and be truly successful. They've helped us understand the best way to build a campaign or given ideas of what we should be thinking about next. Don't be afraid to reach out and pull them into your business because they have been fantastic!
Reachdesk: How has gifting helped your business?
Nexthink: I work really closely with our field marketing teams and our field sales teams. Gifting has allowed us to do a number of different experiences like virtual events, which is a newer thing in the past few years. Many of our sellers and our CSM have never been able to build that face-to-face in-person relationship with prospects and customers up until recently. Gifting serves as a major piece there to fill that gap and to reach out and provide an experience to them.
We've seen such success with gifting, we are now starting to roll it out globally to our entire sales, CSM and service teams so they can start gifting for their own unique moments and start delighting their prospects and customers!

How can you enter to win?
Feeling inspired? We choose our Deskie winners quarterly. Enter for your chance to be our next Deskie winner and join an elite group of gifting pros who continue to surprise and delight their customers, prospects and employees!
Lauren Spears
Reachdesk Customer Marketing Manager