How to build personalization into your sales outreach
A lot has been said about personalization in sales but how much has really been done? Judging by my inbox that's overflowing with sales messages that fail to speak to my needs and pain points (and regularly misspell my name), not a lot. It's not all doom and gloom, however.

While many are still wasting their time in impersonal cold emails, a group of smart companies are investing in building the discipline of personalization into their sales outreach and equipping their teams with the tools they need to create helpful and thoughtful messaging that will guarantee them a response.
In this blog, we've collected some best practice tips from companies we know are going above and beyond with their personalization and we've distilled some common approaches and tactics to consider.
Why personalization is important

If your buyers are anything like me (and research shows that 70% of my fellow millennials are frustrated with brands sending irrelevant emails) they will simply ignore messages that are poorly timed and poorly researched. Apart from the aforementioned fact that not personalizing your outreach will damage your chances of ever getting your foot through the door, personalization has proven to impact your chаnces of winning and retaining customers.

80% of consumers are more likely to buy from a company that provides a tailored experience. Not to mention, personalization is expected by most buyers today. 66% of consumers expect brands to understand their individual needs. So what happens when personalization is done well? Well, to point to just some of the research on the matter, your customer acquisition cost can drop by 50% and your brand loyalty can increase by 28%.


Sales outreach personalization best practices
OK, you get the point, personalization makes sense, but how do you personalize your sales outreach in a meaningful and scalable way? We have a few pointers to share based on our own learnings and learnings from brands we admire.
Do your research

At Reachdesk we use the 3x3 rule. We take 3 minutes to find out 3 things about each prospect based on the company, contact or a compelling event. Do a quick scan of their LinkedIn, their company website or search for news about their company. Make sure you save the information you find out in your CRM at the contact level so it can be used across multiple channels and by multiple teams. Then use your findings to tailor your messaging perfectly to the individual to show genuine intention and purpose behind your outreach.
"When I do some research on my buyer, I can find clues that help me understand the type of person they might be. For example, the type of posts they create on LinkedIn. From there, I can personalize the gift I send to them. That extra thought is huge because they see that I'm taking the time to understand them as an individual."
Be ready to answer "WIIFM?"
Layer the research you've done into each channel so that your message is focused on the prospect. Ask "WIIFM?" (What's In It For Me?). Read your messaging back and make sure you can answer what's in it for the PROSPECT (not us). If you find yourself talking about yourself and the words "I", "We", "Us" appear more than 25% of the time, you've probably forgotten about the prospect and what's in it for them.
Make personalization central to your sales email sequences

To create a lasting habit of tailoring your message, you need to use the help of tools that help you personalize at scale. Your automated email sales sequences are a good place to start. Review your sequences and ask yourself how much room for personalization you leave in your message. Have you built sequences based on relevant triggers, are you targeting the most relevant audiences, are you sharing the most relevant content and are you monitoring performance and continually learning from the engagement you see? Check out our blog for some tips on how to build a winning sales email sequence.
Create a solid email template
You might think that email templates and personalization don't go hand in hand but we beg to differ. Making sure you create a sales email template that always leaves room for personalization helps you build the discipline of personalization for your team. Needless to say, always start by addressing the person by their name (correctly spelled, please), and leave plenty of room in your template for the sales rep to insert personalized messaging based on the research they've done using the 3x3 rule. See an example from one of Reachdesk's outreach email templates below:


Hey [Prospect's Name],
Big news on your recent funding. Is it fair to say you've come in to continue the impressive ARR growth of 4x, or am I off the mark here?
The barrier commercial teams commonly face after Series C to keep up the growth is brand awareness, especially when releasing new products like [Prospect's Product Name].
Imagine being able to elevate brand awareness from your buyers, by sending personalized direct mail that lands on their desk, whether they're at home or in their office. That's Reachdesk. Here is how we helped one customer elevate brand awareness after their Series C.
What's your experience with direct mail?
Best,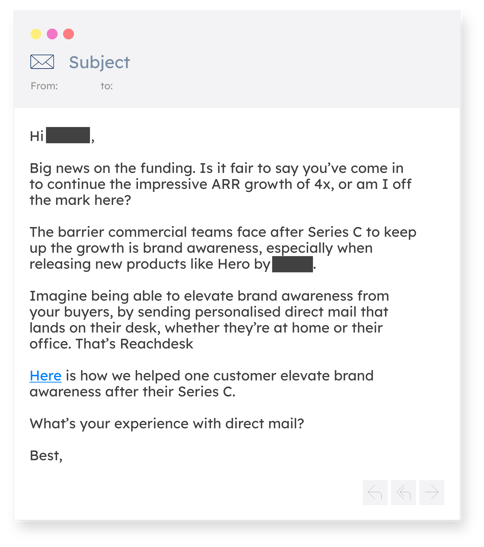 In the opening paragraph we use facts we've found out in our research of the company's LinkedIn activity to open the conversation with what's probably top of mind for the prospect. In the second paragraph we use another piece of information we've identified in our research to address a relevant challenge the prospect is likely facing at the moment. In the third paragraph, we introduce them to how our solution helps them solve that problem and provide them with relevant content to find out more. Finally, we use a soft call to action to spark a conversation. We don't want to ask for the prospect's time when reaching out for the first time.

If you need some inspiration, here are 7 sales email templates you need to have.
Use multiple channels
Sales outreach is no longer only limited to email or LinkedIn messages. More and more companies are experimenting with personalized videos, chats, text messages, and more. Whatever the mix of channels you use to get your message across, make sure that the research you conduct translates to all of them. Create a considered framework for each one of your different channels and personalize your message in each one.
"Gifting has allowed us to be more creative and humanized with our engagement. We are able to grab the attention of our target audience by speaking their language with personalized gifting."
How to use gifting as part of your sales outreach
It won't shock you that at Reachdesk we're big believers in direct mail and gifting as a way to personalize sales outreach and build meaningful relationships. So we're going to talk through how you can introduce gifting to your outreach strategy to help you improve engagement and drive better results.
"The first time I integrated direct mail into my ABM strategy, it quickly became a top revenue driving channel. We developed quarterly direct mail prospecting campaigns to support our domestic and international Sales Development teams, resulting in $6.8M pipeline generation and 375+ new business opportunities for the year."
Be human
This one is huge. In sales we often jump to the call to action or business proposition before making the human introduction. If you want gifting to work for you, take a step back and focus on building a genuine connection with the person first. No asking for a meeting in return of a gift, no generic company swag. Your gift should be tailored to the person's interests and your messaging should be relatable, conversational, and human so that the gift surprises and delights the recipient (maybe that looks like an egift card for dinner if the person is busy or a stress relief spa bundle).


"Once we introduced the gifting playbook across the entire customer lifecycle we saw it really impacted our sales velocity and deals in which we used gifting are 3 times more likely to close."
Use landing pages in your gift flow
It's great to be super excited about your messaging and gift but there's an element of recipients choice that plays into the satisfaction of receiving a gift. Landing pages are great ways to offer gifts in a creative fashion while giving the recipient a choice to pick from options (maybe that's a personalized wine bottle, custom cookies or a bundled gift box).
"When we first started using gifting, we saw a 15% increase in meeting show rate. More shows equals more deals so that directly impacts our bottom line."
Use the Reachdesk Amazon Rainmaker
It's called rainmaker for a reason. Adding an eGift to your email can increase your chances of getting a response and booking a meeting as a result. With the Reachdesk Amazon Rainmaker you can add any gift from Amazon plus a personalized gift message. Should the recipient not want to claim the suggested gift, our Amazon Rainmaker feature allows them to pick something of their choice instead.
"When we added a gift voucher to every first meeting we saw our sit rate go from 75% to over 90% and it has remained there ever since."
Wrapping up

Hopefully we've made a solid case for taking personalization seriously and have given you some actionable tips on how to take your sales personalization to the next level. If you ever need to dive deeper into the role personalization plays in the modern buyer's journey, check out our Marketer's guide to the modern B2B buyer's journey.
Iva Daneva
Head of Content and PR @ Reachdesk