7 sales email templates you need
You've made it through winter and the holiday period but your emails aren't getting traction?
Spring is here and yet your prospects aren't springing into your inbox?
Endless opens without a target-crushing 'yes!' to be seen?
If any of the above apply to you, then oh do we get it. It's a downright travesty, and one we're here to fix immediately. As it turns out, there's a delightfully simple recipe to get those response and show rates up, and it's even easier than the banana bread you were making all those years ago.
Perfecting a sales sequence of email templates doesn't have to be hard at all, so unlike every recipe blog on the internet, we'll skip straight to it without my grandpa's musings on apple pie.
1. The conversation starter
You need a strong opener if you're going to grab the attention of your prospect. We've all heard the 12-second rule around emails, and that's why you want to make a personal connection to keep someone reading. Do your research! Check out their LinkedIn, interests etc. Then link that into your email, like a congratulations on a new role, with a gift to sweeten the deal.
Example:
"Hi there,
I hear you're a hockey fanatic.
So I probably don't need to tell you how crowded it can get around the puck!
Similarly, when releasing a new product, your competitors can obstruct your launch and reduce buyer awareness because of how crowded the market is.
Think of our platform as your drag flick – a different way to take a shot at your buyers. Surprise and delight them with personalized direct mail and gifts to spread awareness of your product launch.
Is this something you've tried before or would you prefer to (centre) pass? (I probably deserve the latter for these terrible hockey puns)
Best,
James
PS: Congratulations on your recent promotion – here's a gift to help you celebrate!"
Between now and your next email – hit that phone. Rome wasn't built in a day and sales typically aren't either!
2. The follow-up
Once you've gotten through to your prospect, it's time for a follow-up. Link it back to what you spoke about on the call and share a good resource from your company that connects with that.
Double up if you can and share a successful case study that tackled the same things your prospect wants to fix.
Example:
"It was great to catch you on the phone just now, Mary!
I really value your time, especially as I caught you while in the middle of the school run. I thought you and your little one would both enjoy a sweet treat to share, so here's a landing page to send yourself something through our platform.
I appreciate you haven't had much experience with direct mail so I thought it would be useful to share an overview of how direct mail can increase engagement, drive leads, and break into key accounts.
Based on the overview here, what challenges could you see our platform helping with?
Best,
Rachel"
3. The nurture angle
Not breaking through just yet? That's ok, you hopefully know by now that people respond when they want to – there's only so much you can do. However, one of the things you can do is a nurture email. At Reachdesk, we love keeping these seasonal – like your favorite local hipster farm-to-table restaurant.
Take this "happy New Year" outreach and gift tie-in for example. It's fresh and relevant, which shows your prospect you're not just recycling the same email over and over. Notice how a little prior research into the prospect's future business plans provided with a smooth segue into discussing our product.
Example:
"Happy new year, Craig!
I'd like to send you something to help you kick off the new year in style. Just let me know where to send it!
I read an interview you did recently and along with the amazing results your company has achieved this year, I noticed that you're looking to expand into new regions.
This is an exciting move, but new regions often bring low brand awareness and more competitors! So I thought this might be a good time to reach out with some creative direct mail and e-gifting ideas.
Here's just one example of how a customer used our platform to get recognised by their key personas and hit the ground running when entering a new market.
Best,
Jen"
4. The meeting invite
Go on, be brave, we believe in you. Take the plunge and ask for a meeting. You've shown yourself to be knowledgeable of your prospect, their company and the pains they face.
Once it's in the diary, consider offering the prospect a gift along with a rough agenda for the meeting.
Example:
"Hi Claire,
I hope you had a great new year. I'd love to send you a little January care package to kick off our conversation this month. 🎁
Please pop in your details here to receive your very own snack box.
I'm looking forward to reconnecting with you on Tuesday next week at 11am.
As a loose agenda, we'll cover:
Your event plans for 2023.

How our platform could help with swag sourcing and shipping to events.

Where Sales could leverage direct mail to follow up with event leads.

Feedback/next steps.
Please let me know if you have any questions ahead of the call.
Thanks,
Trent"
5. The pre-demo gift
Come now, you haven't done all that graft only to not see it through and ensure your prospect turns up to the meeting. Use the lead-up to your meeting to gently remind them with a free coffee to enjoy during your chat, and maintain that keen interest in them and their interest in the meeting. Ask questions and get them thinking about why they're taking this meeting with you.
Example:
"Hi Sandra,
Ahead of our call tomorrow, I wanted to introduce my colleague Sarah who will be joining to run you through how we're helping others in your space with their swag sourcing, event shipping, and ABM approach to both their prospects and customers.
Here's a look at some live examples of what our customers have been sending out directly from their CRM.
I thought you'd enjoy some lunch on us to get some time back in the day – grab it here.
Looking forward to meeting you,
Beth"
6. The demo follow-up
You've had a successful demo, now what? Well you're going to hammer it all home with a well-noted recap of what was discussed, leaving no key points out. Most importantly? Next stages, with clear responsibilities so everyone knows what sits with them.
Example:
"Hi Meg and Tim,
Thanks for your time today! Congratulations again on the new role. Here's a summary of the call and some useful content for you:
Key challenges:
Brand awareness.
Webinar fatigue.
Getting expertise/thought leadership out there.
Rapidly growing hiring demand.
Focus on 100 key accounts – driving awareness and conversions.
Information on Reachdesk:
Overview Deck (

link

)
6 sends that align with anti-bribery policies (

link

)
Reachdesk Pricing 2022 (

link

)
Next steps:
Meg and Tim to sync internally to discuss Reachdesk.
Larry and Faye to meet with C-suite next week.
Pricing feedback and alignment on that call.
If you have any questions in the meantime, please send them over to me :)
Best,
Finn"
7. The ghosting icebreaker
Sad, but true – sometimes the best prospecting in the world can't get through to someone. Before you pat yourself on the back for a job well done, make another cup of tea and remember it's not personal, go ahead with one last email to see if you can't break through at the eleventh hour.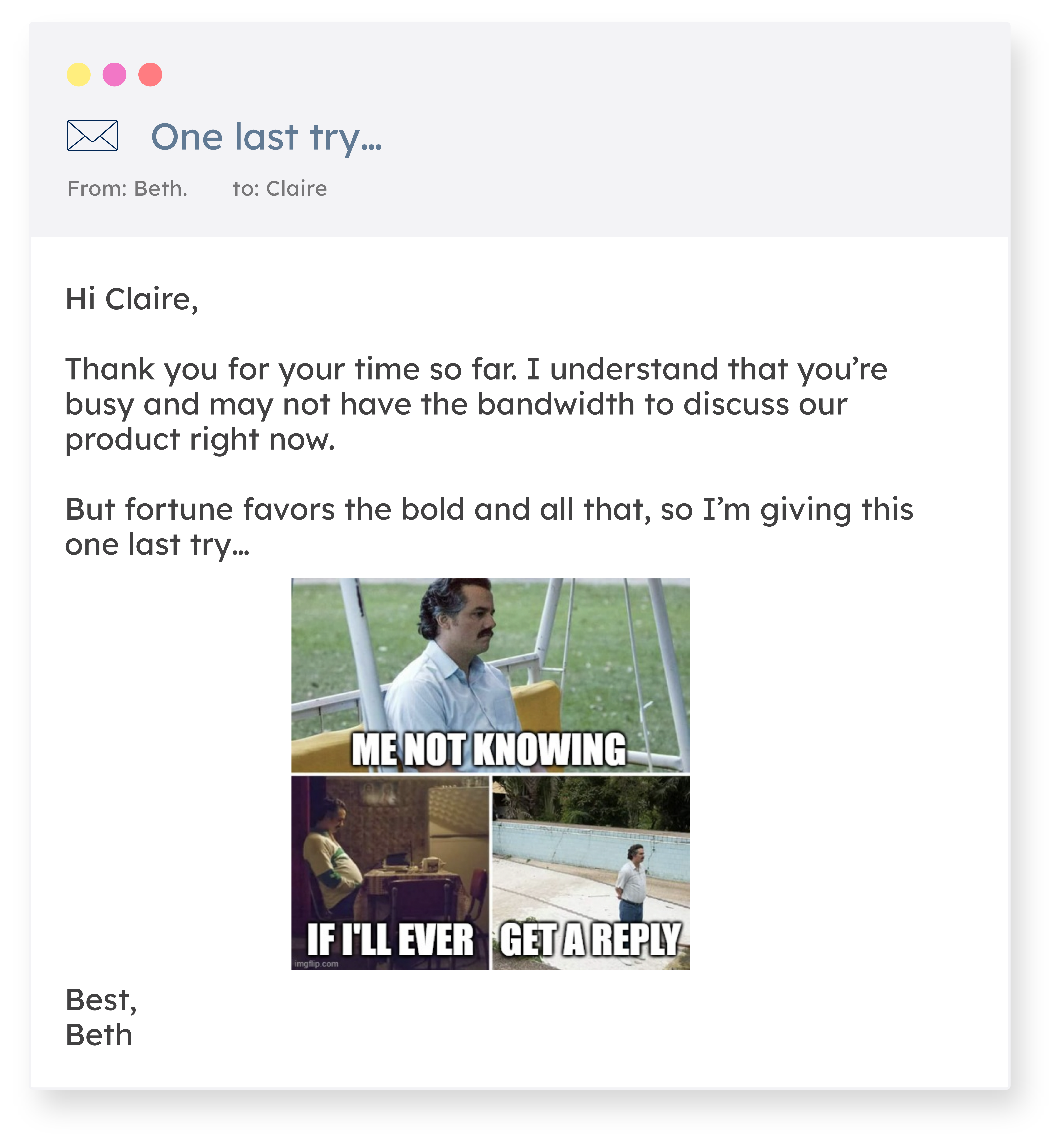 Now, you might be wondering, where's the breakup email? The thing is, we just don't play with those at Reachdesk and we don't think you should either. They come across a bit too weird-person-in-your-DM's, and if they haven't replied to your ghosting email, there's no need to keep flogging.
We're all business professionals who know when to accept that it's time to focus this recipe on a new prospect. Wouldn't want to be getting too salty with our banana bread now would we?
Tallulah Grace
Marketing Associate @ Reachdesk