How to build a winning B2B sales sequence
Structuring the perfect B2B sales sequence is a delicate dance - every step counts.
To maximize customer conversions, your sales team needs to know exactly which touchpoints to hit - and when, to effectively engage their prospects.
But what makes a strong sales sequence and how can you create one for your BDRs to follow?
All it takes is creativity, an understanding of the power of personalization, and knowing how to reach your target personas effectively. Throw in some strategic gifting and you're on track for success!
‍
Step 1: Create a sales sequence strategy
Those prospects won't convert themselves, so you'll need a plan. To build your sales sequence strategy, you'll need to complete each of these steps:
‍
1. Select your sequence triggers
Sequence triggers act as green flags for your BDRs to go after a potential prospect.
Certain events can act as sequence triggers for your team to take action and reach out. Examples of event triggers for your strategy could include:
‍
A relevant company announcing new funding
An of-interest contact changing jobs
A new c-suite member being hired
A merger or acquisition being announced
An increase in hiring speed
The trigger events that begin your sales sequence should always be based on the ideal customer persona that your business wants to target. After all, it's a waste of time going after prospects if they don't need the product you're selling.
Also, make sure that your BDRs personalize and tailor their messaging to each prospect based on the trigger event that they're responding to - this is something that gifting can help you achieve. For example, if you've noticed that an of-interest company has announced new corporate funding, you could respond by reaching out to a key decision-maker within the firm via email congratulating them, as well as gifting them a bottle of champagne with a personalized note referencing the funding.
At the very least, you might gain some social proof for your efforts in the form of an appreciation post on social media:
‍
‍
2. Select your target audience
Selecting a target audience to sell your product or service to is key to any sales sequence strategy. Spray and pray simply won't work here.
Start by selecting your ideal customer profile (ICP) and zero in on the pain points they face day-to-day. Then, think about how your product or service could help them deal with these pain points. Also, consider where your target audience are spending their time and how they would want to be contacted - if you're selling to c-suite executives, then LinkedIn is a great place to start.
‍
3. Mix up your touchpoints
In a remote working world, communication is more important than ever. But with inboxes filling up and time spent online increasing, communication fatigue can also set in, particularly when it comes to prospects engaging with sales teams. With this in mind, BDRs should be broad, bold, and creative with their outreach strategy, channels, and cadences.
Using a combination of email, phone calls, and social outreach is a traditional approach, so why not try to break the monotony by surprising and delighting prospects using direct mail and gifting, too
Gifting to prospects at all stages of the funnel not only shakes up your sales sequence, but can also garner huge ROI. In their 'How Small Gifts Can Create Big Marketing Wins' report Zoominfo reported a 14,971% return on investment when using gifting to encourage warm prospects to show up for a sales meeting:

In terms of the cadence of sales messaging to prospects, models like The Agoge Sequence can act as a guide for your own sales sequence, emphasizing the need for a persistent, mixed platform approach.


4. Share relevant and useful content with prospects
Another branch of your B2B sales sequence strategy should be focused on content. More specifically, on providing your prospects with educational blogs, ebooks, whitepapers, and webinars at various stages of the sales sequence, that help them learn about your product or service and how it can serve their pain points.
One of the advantages of taking an account-based experience approach to marketing is that it helps align your teams. Once your marketing, sales and customer success teams all have the same goals, they can work together to create valuable content which targets prospects' pain points and can be shared with prospects to close more deals.
‍
5. Assign sequence creation to a sequence committee
Creating the perfect sales sequence requires team effort and participation. So, make sure that you assign sequence creation to multiple stakeholders within your sales team. There should be people responsible for crafting the messaging that goes into emails, sourcing the content that's sent to prospects, checking performance, and improving regularly.
An effective sales sequence involves trying out new ideas and plenty of trial and error. Make sure to hold frequent brainstorming sessions with the entire sales team to come up with new ideas for content and messaging, as well as discuss how the current sequence could be improved upon.
‍
6. Save and automate sequences
Automation can save time and money, so make the most of it!
Ensure that your sales team is using a CRM like HubSpot to track prospects' journeys from start to finish. Tools like these help BDRs get a seamless overview of campaigns so that they can nurture prospects at various stages of the buyer journey without overlapping with other BDRs, or having to create new campaigns from scratch each time an account gets taken over.
Just because sales sequences are automated, doesn't mean that they should be impersonal or cold. Remember to begin any sales sequence in a highly personalized way, using names and human touches like gifting where possible. You can increase automation as time goes on, particularly when there's no response from a prospect.
‍
Step 2: Craft a flawless first sales email
The reality is, if a BDR gets the first prospecting email in the sequence wrong, then it's game over. So, to pique a prospects' interest and avoid losing opportunities, cold email content has to be exceptional. Even if it doesn't result in a deal, or even a response, the impression your BDRs make with their copy can last a lifetime.
Where possible, your BDRs should avoid using email templates, especially so early on in the relationship. However, there are certain elements that their first cold outreach email should always contain:
‍
1. A human tone of voice
BDRs should be encouraged to type as they speak and show their unique personality, particularly in the first sales email. This means puns, wordplay and jokes all get the green light. After all, the aim is to forge a connection and start an open conversation, so the unique characters in your team are your biggest asset.
Mirroring a prospect's tone of voice can also help build rapport. Your BDRs could familiarize themselves with this by heading over to a prospects social media profiles and reading through their posts to get a sense of who they are, how they speak, and how they like to be spoken to.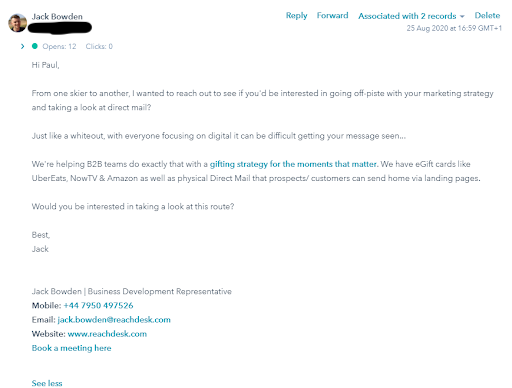 Here, Reachdesk's own BDR, Jack, uses plenty of skiing related puns to capture a prospects attention in his cold email.
‍
2. An emphasis on personalization
72% of consumers only engage with marketing messages that are customized to their specific interests, so it's never been more important for your BDRs to start personalizing their messaging to prospects.
With this in mind, the first sales email to a new prospect should contain references and insights to personal information that your BDRs have actively sought out, such as their hobbies, interests or likes. Tethering this to a personalized gift is also a fantastic way to stand out amongst the sea of other prospecting emails in their inbox.
If you've found out that your prospect is a huge star wars fan, for example, why not gift them some memorabilia from the film. Or if they've shared their love of diving on LinkedIn, why not kick off the conversation by gifting them a book about diving.
‍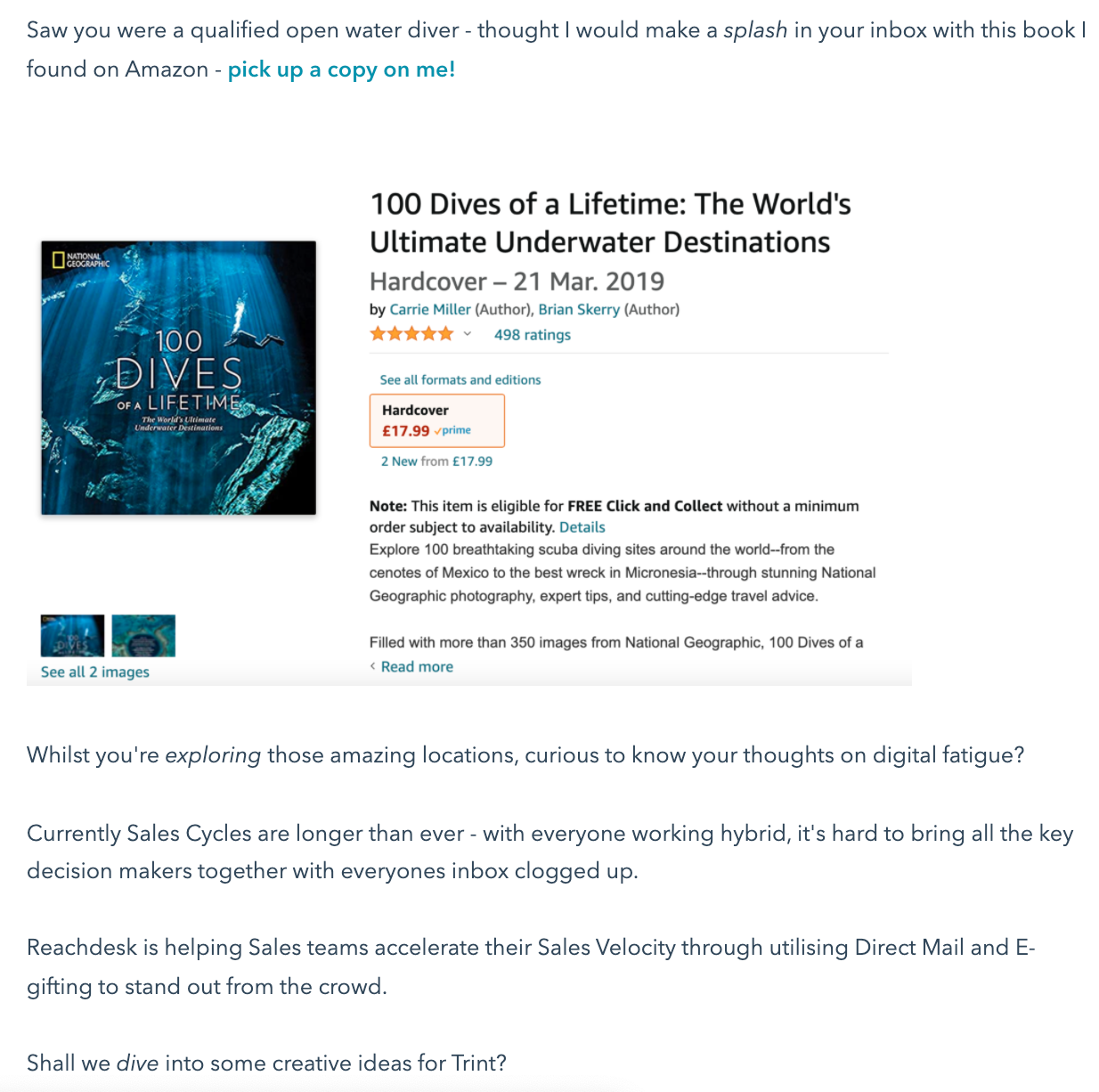 ‍
3. A clear call to action
This could be a link to a piece of helpful content that addresses a prospects' pain points. For example, if a Reachdesk prospect was having trouble seeing the ROI of their current gifting efforts, we might send them a blog post that pinpoints exactly how our product could help.
To make the email even sweeter, you could also add a link to an eGift card to improve the chances of them booking a meeting. Try to avoid overly pushy messaging or CTA's, though.
‍

‍
Step 3: Monitor the right metrics
Regularly monitoring the results of your sales sequences and optimizing based on these learnings should be a cornerstone of your sales strategy. There are many ways to measure the effectiveness of your sales sequence once you've set it up. The metrics that you could use include:
‍

Prospect reply rate‍
This metric tells us the number of individuals who reply at some point during the sales sequence, either via phone or email. A high prospect reply rate hinges on how successful the CTA in the email is, how effective the email content is, and how relevant it is to the prospect.

For cold prospecting sequences here at Reachdesk, we aim for a 15% reply rate, but the industry standard rate for cold email replies is 1-5%.


Email open rate
‍This metric demonstrates how many emails were opened in a sequence. A good email open rate tells us that the subject line of the email was effective. A bad email open rate means that the subject line needs work.

The industry standard is 22.6%, but here at Reachdesk, we like a challenge, so we aim for a 50% email open rate.


Meeting show rate
‍This metric is measured by how many prospects show up to a meeting after an initial cold touch via email. It provides an insight into a prospects intent - if they book a meeting but don't show up, intent is unlikely to be strong.

For this very reason, offering a gift in return for simply booking a meeting isn't a smart move, as prospects could redeem the gift and then decide to dodge the meeting. Instead, keeping an eye on meeting show rate makes it clearer which prospects are more serious about learning about your product or service.


Content clicks
‍This metric demonstrates how many prospects are clicking on the tailored educational content that you send them. It shows how engaged they are from that first touch. For example, if a Reachdesk prospect visits the gifting guide that one of our BRDs has sent them, they're probably interested in formulating a gifting strategy, and having a conversation.

‍
Step 4: Learn, optimize, and be creative
Once you've set up your sales sequence and began rolling it out to your sales team, it's time to start converting those prospects!
However, a sequence is rarely perfect from the get-go, and most require adjustments to get it right. Therefore, monitoring campaigns and extracting learnings is an important part of the sales sequence process. So, what are the next steps once you've set up your sequence?
‍
1. Run a/b tests
Work out which cold emails are performing better by comparing certain variables. For example, you could A/B test subject lines, whether or not to use video to engage prospects, or test the success of certain words or phrases.
‍
2. Empower your team to be creative
Creativity is a must when trying to break through to new accounts using sales sequences. Encourage your BDRs to find new ways of engaging prospects through email by using mediums like video, sending personalized gifts and abandoning an overly formal tone - it's all about utilizing their unique voices to capture a prospect's attention.
‍
3. Share learnings
Ask your team to be candid when sharing feedback and learnings. Determine what's working and what's not by creating an open forum for your team to voice their experiences. Additionally, you could organize sequence workshops and brainstorming sessions to encourage creativity.
‍
4. Keep sequences fresh and up to date
Creating your sales sequence is only the beginning. Make sure to experiment with the number of touchpoints that your team are using, as well as with the mediums that they're utilizing to reach prospects - it's not all about email, calling is important throughout the prospecting phase, too.
‍
Wrapping up
Building the perfect B2B sales sequence is no easy task, but there are plenty of ways to create a winner!
First and foremost, make sure that you and your sales team nail your sales sequence strategy, before perfecting your outreach emails and monitoring the results from your campaigns. Reaching out to prospects using methods like direct mail and gifting is a great way to supplement traditional sales outreach such as email and cold calls.
Experiment, learn, and optimize your strategy with your findings and remember to encourage your BDRs to be as creative as they can.
Ready to take your GTM strategy to a new level?
Your guide to Account-Based Experience
Ellie Scott
Content Marketing Executive @ Reachdesk