5 creative demand generation ideas you can try now
We can wax poetic about high-level marketing philosophies all day in meetings that could've/should've been emails (and we unfortunately have). But when it comes down to the tangible these-demand-generation-boots-were-made-for-walking tactics, we know it's best to get your hands dirty to attract the stickiest leads.
So, here are five creative demand generation ideas that you can begin to implement into your marketing strategy right now:
1. Host some kick-ass in-person events
Whew. How about those past ~30 months, eh? While we all became innovative with a webcam and engaging Zoom tactics to connect with our networks during that time, we can breathe a bit easier knowing real events are coming back. Because as creative as we got, nothing can replace the in-person touches and moments you create at events. And these days, attendees expect those touches to be personal.

So, how about a bespoke agenda/schedule for each attendee based on the information provided? Or, hold a giveaway or a prize draw to encourage engagement with your organization. How about personalized Yeti mugs to keep attendees caffeinated? Finally, once your event is over, send a dozen branded cupcakes as a "wanna learn more?" thank-you gift.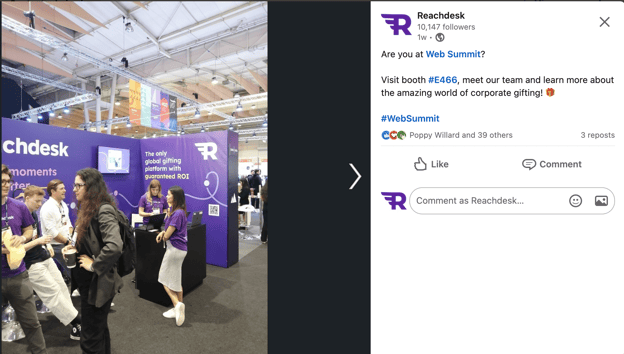 2. Host some (more) kick-ass online events
Oh, you thought that we were done with webinars and online events just because things feel more "normal" than they have the past three years? Think again. No, we need to continue riding the momentum we all gained from the culture shift toward fully accepting digital tools–and that's a good thing. Ninety percent of organizers say that all large-scale events will be virtual or hybrid by 2023.
Not only are live events great for boosting the reach and awareness of your brand, but they're also a great way to collect data on attendees. Before the event, you can incentivize interest with an eGift, like a Starbucks gift card. You can send personalized baked goods with both in-person and virtual events (and Reachdesk's Address Confirmation tool simplifies the sending process).
We already know that direct mail to prospects before an online event can increase attendance by a whopping 76 percent, so the ROI is most definitely there. And be sure to pack any email invite or reminder with all the great content collateral you have to keep them fully engaged in what you do–but be sure it's personal to their specific needs (we'll put a pin in that one for later).
3. Create some social media ads that are impossible to avoid
In the account-based marketing (ABM) world, prospects will miss the chance to engage unless it's highly personalized and served directly at their feet–in the easiest-to-use interface possible. So, let's meet them where they are: on social media. Learn where your personas "live" and spend the most time online, and put some resources behind an ad that directly speaks to their needs. Different prospects have different needs, though, so a one-size-fits-all post isn't going to cut it here. Create different ads for your target segments with different tones and deliver different calls to action. Just consider yourself a social ad chameleon from this point on. And the beautiful thing about social media is that it comes with every metric you could ever want. So, if one ad doesn't work, iterate and try again.


4. Create engaging–and practical–content
Content drives traffic. Traffic drives leads. But let's back up a bit and try again: Engaging, useful content drives traffic. Content can't be a mindless box checked on your marketing strategy. Your content has to be clear, concise, well-written, and answer a specific problem or a need. And like all ABM we do, this means understanding your audience. So what can you offer? How about a case study detailing a relatable story from a customer? Or a well-designed and rich downloadable eBook for those interested who want to dig deeper (and for you to collect prospect data)? Or, if your topic is a little narrower and on-trend, a whitepaper can be a bit of a lighter lift. What about a conversational blog detailing, say, a list of useful tactics your customer can take (hypothetically speaking, of course 😉).
Once you have your content, you've got the collateral for your social and email campaigns. It can also be on the other end of a QR code at an event or in the note in your direct mail campaign. SEO-friendly content living on your site can serve as surrogate sales, too, which maximizes the potential for conversion later.
5. Give gifts!
You saw this one coming, and obviously, it's near and dear to us. But not without reason: Giving a personalized gift to a prospect can have a massive impact on the future of your relationship with them. Sending a monogrammed throw blanket shows you listened during a previous conversation when they mentioned that their home office was chilly. And it'll serve as a lasting reminder of your thoughtfulness and a conversation starter for your next interaction. Not only that, but the ROI is more than there. Gifting means you're nine times more likely to get a response than an email. The wide range of gift options from Reachdesk's marketplace, like eGift cards, personalized notes, brownies, or even tequila, means there truly is something for even the most discerning prospect on your list - just make sure to take into consideration cultural considerations when gifting globally.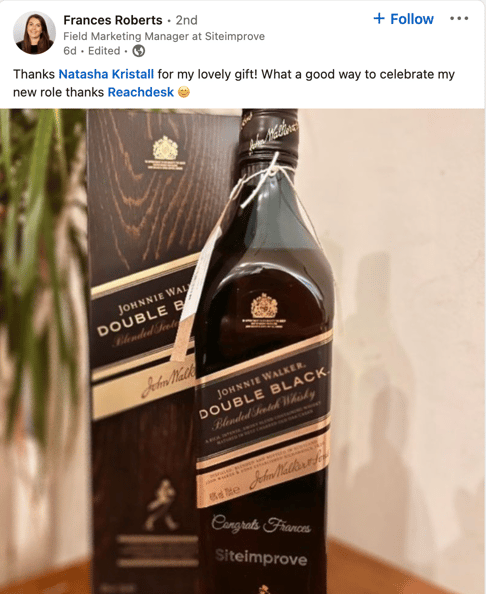 Wrapping up
When it comes down to it, the five tactics to generate demand listed above don't exist in a vacuum. They need to have authentic, personal interaction–and that's the common thread between each of these methods. The events don't work without genuine conversation and relationship building. The social campaigns and content won't work unless you fully understand who you're talking to and what they need. And the gifting is the personal cherry on top that says, "we get you."