Reachdesk Release Update July 23
We're back once again with a host of awesome new features, functionality and enhancements to your favourite direct mail and gifting platform!
Headlining our July update is a major change to how we calculate your ROI, giving you the most accurate attribution possible to help you prove the value of your gifting activity and make better decisions about your strategy. On top of that, we're launching a cool feature for eGift campaigns where you can choose to lead with a specific eGift brand that ties in with your campaign messaging, plus brand new self-serve enablement tools and compliance controls that allow you to set a limit for how much you spend on a single recipient. Read on for more detail!
📈 A revolution in attribution: introducing the most reliable ROI calculation in the market
Attribution is a complex and contentious issue that can bring B2B marketers out in a cold sweat. If you don't know the extent to which your marketing efforts are driving conversions, any attempt to optimize your campaigns, identify gaps, improve lead nurturing - or even show the value of marketing as a function - is based on guesswork.
With marketing budgets being slashed and greater scrutiny on spend than ever before, it has never been more important to have proper visibility of channel effectiveness and ROI so you can cut and boost the right parts of your marketing mix.
It's hard enough to quantify across digital touchpoints where you can actually track metrics like page visits, email opens, and social post engagement. But when you introduce offline elements such as direct mail and gifting, it gets even murkier - until now.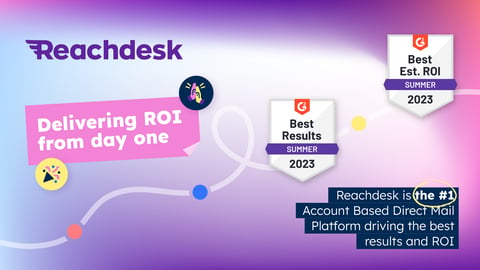 We pioneered gifting intelligence with Reachdesk IQ, offering the most powerful direct mail and gifting analysis in the market - a fact that has recently been recognised by the review site G2.com, where we were the only account-based direct mail platform to be awarded Best Results and Best Estimated ROI in their summer 2023 industry report.
But we're never happy to stand still so as of today we're bringing genuine clarity on attribution for direct mail and gifting, ensuring GTM professionals and RevOps teams are no longer in the dark when it comes to ROI and attribution.
For B2B companies using direct mail and gifting to supercharge their sales and marketing efforts, two of the main areas of ROI are: generating pipeline and most generating revenue. While our research proves that gifting positively increases win rates, it wouldn't be reasonable to take 100% of the credit for a won opportunity.
By analyzing datapoints from millions of sends through Reachdesk combined with extensive customer research, we've uncovered that accurate attribution for direct mail and gifting ranges between 20% and 40% for pipeline generation and between 40% and 60% to closing deals.

When calculating your ROI, Reachdesk Insights will now default to the mid-point of each of these two percentages - 30% and 50% respectively. However, we also understand that you might want to use your own attribution model so we have also given you the ability to define your own attribution percentages within the platform settings.
The result is ROI calculations at your fingertips for pipeline and revenue that you can be confident in, enabling you to show how your direct mail and gifting strategies are helping you grow your pipeline, close more deals, and increase the amount of revenue generated.
💝 Charity donations for Marketplace items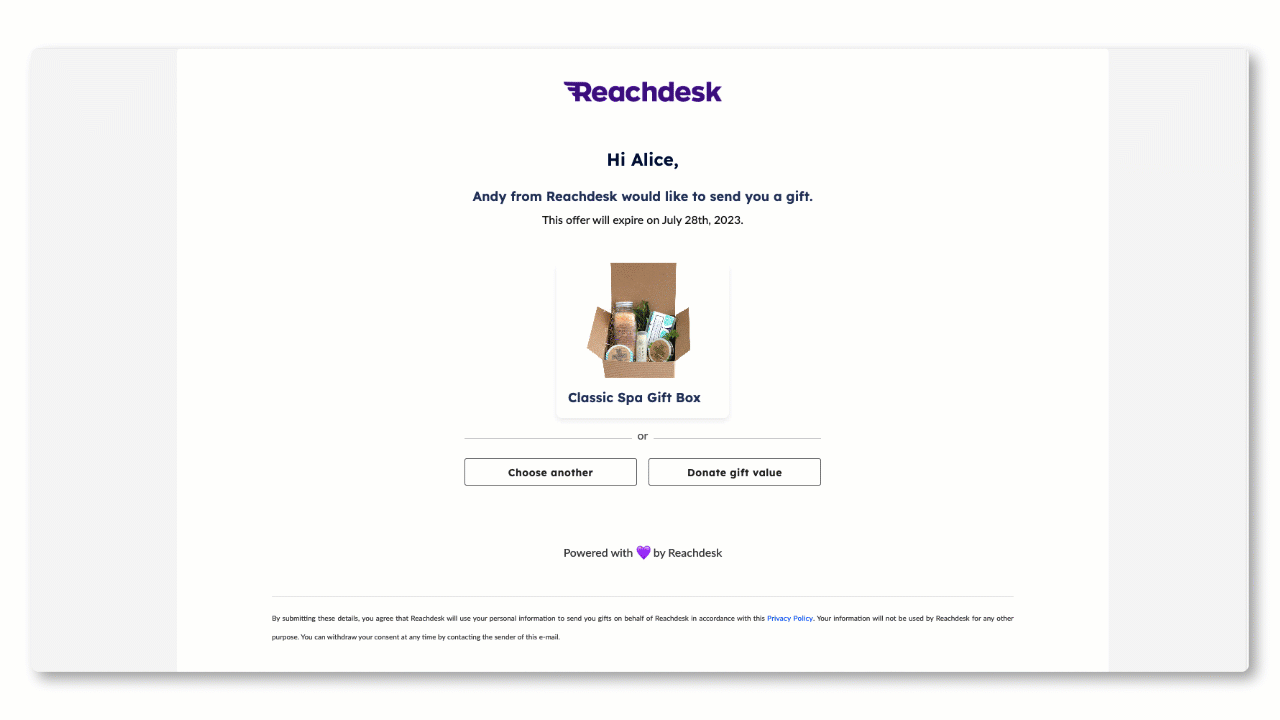 We always recommend that our clients add charity options to their eGift campaigns, enabling their recipients to make a donation if they work in a role, company or industry where they are unable to accept it.
However, from today, you can now also offer a charity donation as an alternative on marketplace campaigns where recipient's choice is enabled, allowing your recipients to choose to donate the value of their gift to one of a selection of charities.
This new feature means you can make being told "thanks, but no thanks" a thing of the past and make stronger connections while staying compliant with gifting policies.
💳 eGift Card Main Offer
In response to a number of requests, we have added new functionality that allows you to designate one eGift brand as the main offer campaign, enabling you to provide a focal point for your campaign.
It is now simple to tie your main eGift brand into your messaging, whilst still providing plenty of options for your recipients to choose from. You can also set this so you senders can choose a different main offer in the send flow, providing unparalleled flexibility for personalized sending.
This new feature also includes an improved pricing experience in the send flow, due to the many price points different gift cards can come with, it can be hard to pick an amount the recipient can definitely claim. With the main offer, functionality, you can only send an amount which is definitely available for the recipient for the main offer brand.
Along with this, you now see live currency conversions, so if the selected brand is in a currency you are not familiar with, you will see the amount the recipient will get and the converted cost in your currency.
👕 Send sized swag in manual campaigns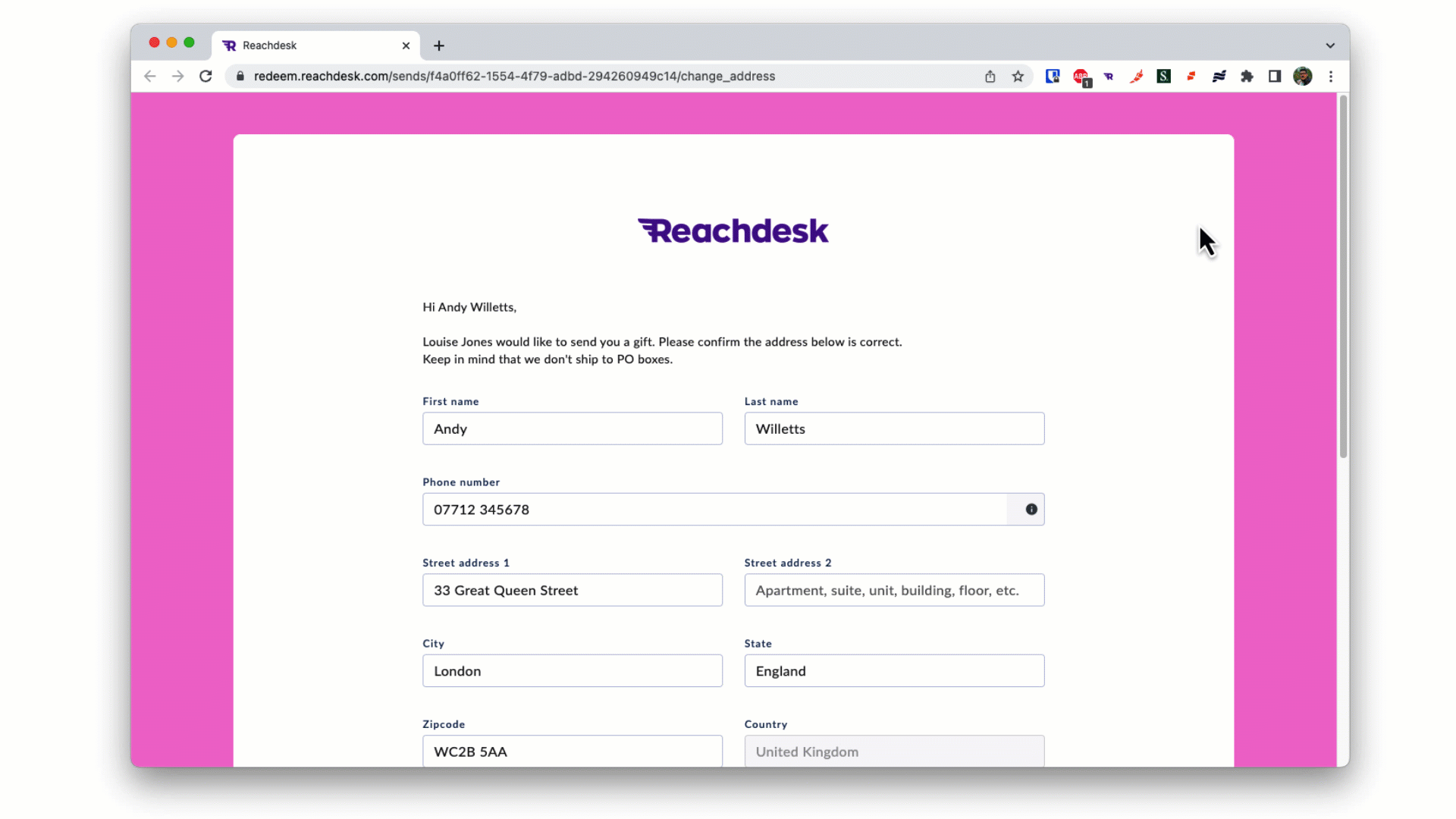 It used to be the case that if you were sending a swag item from our warehouse with multiple options (eg different clothes sizes), you had to use an external landing page for your recipient to pick their size.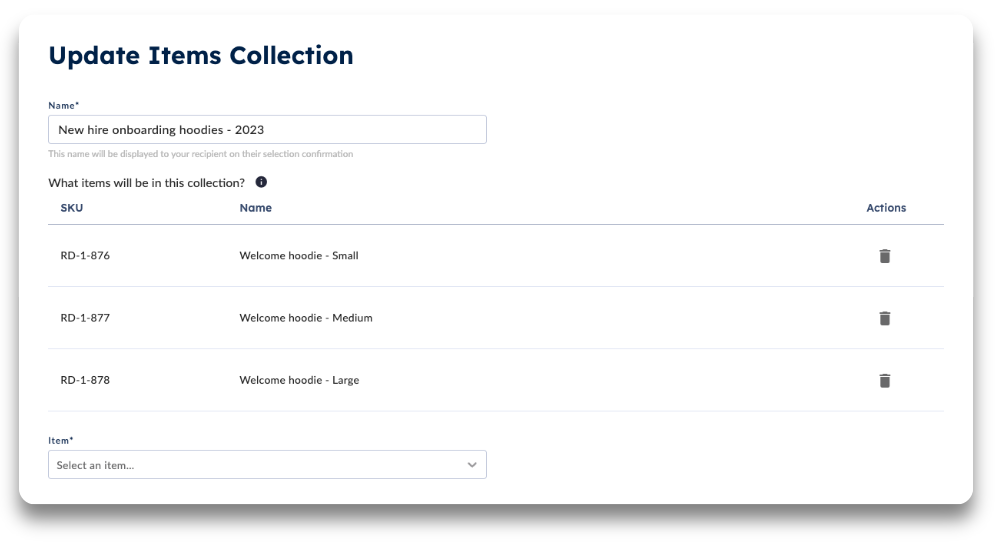 You can now group variations of items into a single collection which can be added to a manual campaign. Recipients simply select their option during the address confirmation phase. The result is simpler set-up and management of campaigns and a smoother experience for your recipients.
👭 Assign inventory to teams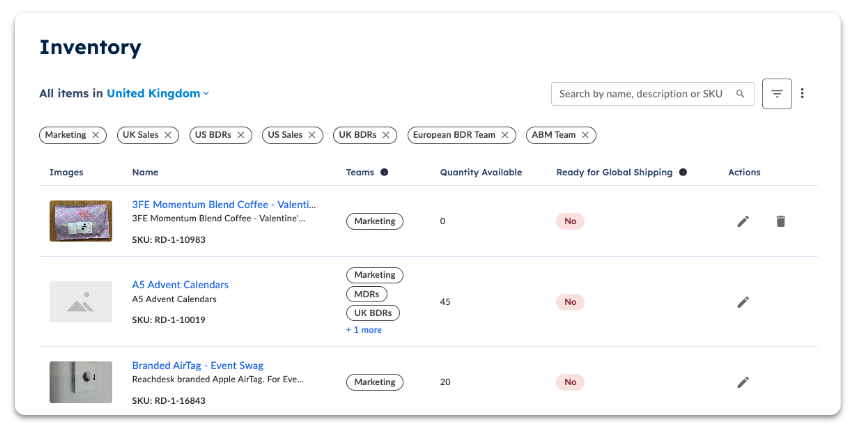 By popular demand, we have now made it so you can now assign inventory items to individual teams, giving you much greater control over who can send what. Perfect if you have swag in the warehouse that is only meant for one specific team to use. This feature also enables you to search and filter your inventory by team, making it easy to identify at-a-glance which items can be added to a team's campaign.
✍️ Edit pending and scheduled sends

It is now possible to go back into pending or scheduled sends and edit almost any part of it. This is particularly useful if you have a bulk or triggered send where the assigned wallet lacks insufficient funds. You can now effortlessly update the send and choose a different wallet ensuring successful delivery and a happy recipient!
👩‍🎓 Self-service help guides and videos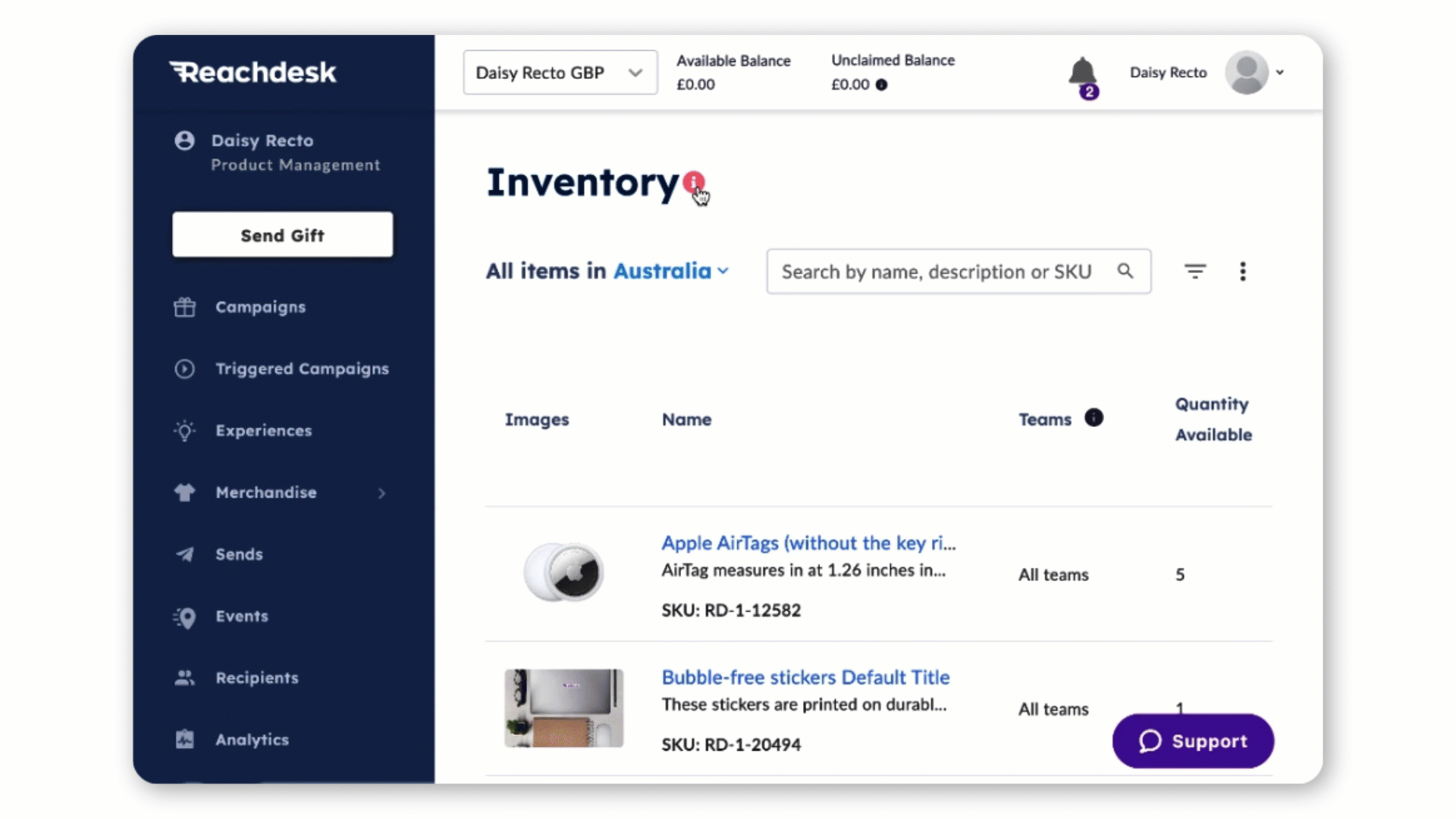 To help you and your teams more easily learn how to use Reachdesk and enable self-service onboarding, we are now showing a help icon that users can click to see helpful videos and links to support articles for the following parts of the platform:
Organisation Settings

Balance Settings

Inventory Management

Campaign Management

Integrations
We will also be releasing more help videos for the other areas in the next few weeks, as well as onboarding checklists for different role types.
💰 Recipient spend limits

To help you stay compliant both with country legislation in various territories and also your own internal business policies, it is now possible to set a spend limit for your recipients. This means that recipients can only be sent gifts totalling a specific value over the course of a year. You also get full visibility of current spend, available balance and budget per recipient on the Recipients page helping you stay on top of your per-recipient spend.
💝
Recipient choice when marketplace item is out of stock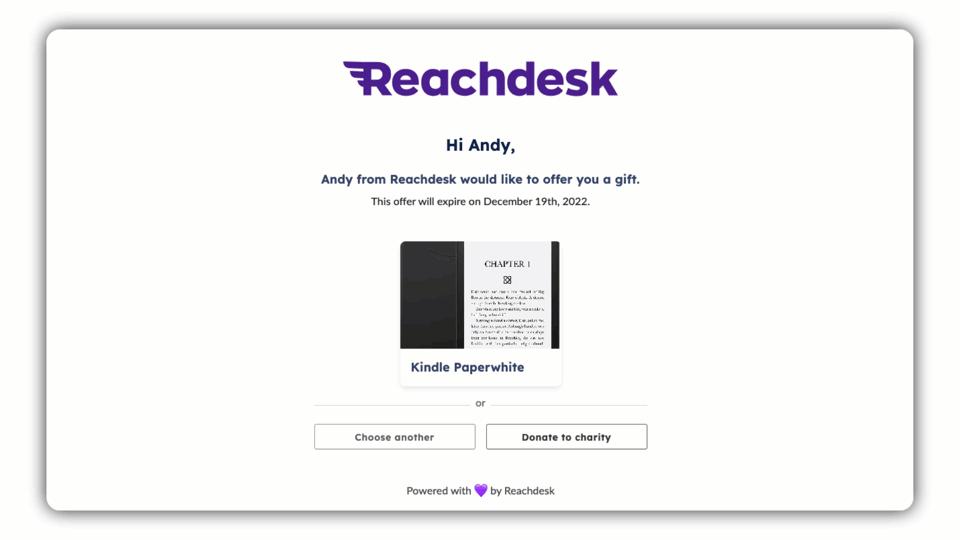 It used to be that if a Marketplace order was cancelled by the vendor as out of stock, we would contact you to reach out to select another gift to be re-sent. However we have automated this process so now if a Marketplace vendor cancels an order due to items going out of stock, Reachdesk automatically sends a follow-up email to the recipient notifying them that the gift is out of stock and prompting them to select another gift from the marketplace, removing the admin burden from your sender.
Nb. this is only applicable on sends where Recipient Choice is enabled.
🛠 Enhancements
Merch Builder estimated costs prior to placing the order - You can now view an estimate of how much you will be charged before committing to an order through Merchandise Builder.
Merch Builder Categories - We've added categories to the Merch Builder catalogue, bringing the experience another step closer to gift cards and the marketplace.
Additional comparators for Trigger Campaigns - Greater flexibility for triggered campaign targeting thanks to the following new comparators:

does not equal - for scenarios when excluding by a field is faster than including all options
contains & does not contain - include/exclude all recipients with a commonality, i.e. all with 'manager' in the title

New email report on Bulk Sends - We've made major improvements to the bulk send email, giving you much more detail on the send, making it easy to act in case of pending sends or sends with errors.
Search Users by name and email - Admins can now search the User page by the user's name or email.
Improved claim flow UX - Recipients now see their gift and shipping destination as the final step of the claim flow.
Expanded bulk send recipient limit - You can now upload bulk sends to a maximum of 5,000 recipients, up from the previous limit of 300.
As always, this new functionality comes from a blend of proactive innovation from our incredible tech team and co-innovation with our wonderful clients. Join us again next time for more fabulous features and enhancements to make it even easier to deliver moments that matter to your prospects, clients, partners and employees.
In the meantime, if you have anything you'd love to see in Reachdesk - or you have any questions - please get in touch.
Andy Willetts
Product Marketing Manager @ Reachdesk