BDR best practices: How to break into key accounts
Here at Reachdesk, we know that being a Business Development Representative (BDR) is no walk in the park. Dealing with hang-ups every day can get the better of you, lofty targets put the pressure on, and knowing your prospects' inbox is full of emails just like yours can be daunting. Here we share some of our nuggets of wisdom and hard learned lessons to help you keep smashing through your targets.
How can BDRs break into key accounts?


1. Create emails prospects want to read
When 65% of all emails to enterprise prospects are going unread and targets feel unattainable, what's a BDR to do? The answer is to deliver personalized and unique experiences to your top accounts - globally. Spray and pray, be gone. ABM is here to stay and the research backs it up…
It's a pretty clear conclusion that to remain ahead of the game in, doing your research and treating people like people will place you at the front.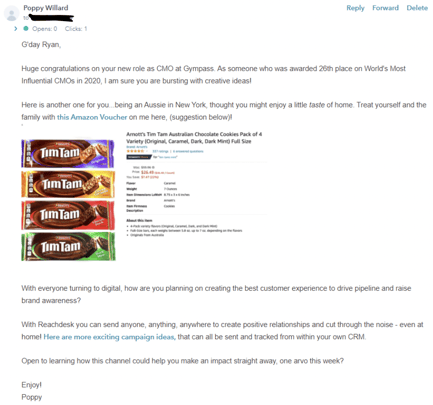 2. Stand out from the ABM crowd
Here's where personalized gifting comes in! A well-thought and timely gift can help BDRs create a deeper relationship with prospects, add healthy curiosity, and help them feel like they're not just another number. Reachdesk even takes the headache and logistics out of the process by integrating with your tool stack.
Gifting can be used strategically in multiple stages of the prospecting lifecycle; from initial outreach to discos and demos, to simply demonstrating an understanding of the individual, and, of course, pain points. Again, however, we are not looking to spray and pray - doing so goes against the whole tenet of individualization and won't get you results. Gifts should be thoughtful and smart - just like you.
At its core, selling is hyper-specific one-on-one marketing, from salesperson to prospect. To achieve success, think more along the lines of Mary Poppins, where a spoonful of sugar helps the medicine go down. A lovely sweet treat (brownies, logo cupcakes, cookies) helps the medicine (your product) go down to fix the prospect's pain points (which you'll have researched and addressed in your outreach). Now isn't that the most delightful way?
3. Expect nothing in return
Repeat after me: we don't expect anything back, and we don't trade gifts for outcomes. That would be bribery, folks, and we like to stay on the right side of the law (and morality). There should be a reason for the gift. You're looking to create a memorable moment - perhaps treat them to lunch ahead of an existing virtual meeting and structure the call as a lunch and learn. They come away with a value add, and a true understanding for why you can help them.
4. Don't miss the right moment to reach out
Still searching for in-roads? Keep an eye out for promotions, birthdays, and achievements. Let's say a key prospect posts on LinkedIn about their love of scuba diving. Head on over to the Reachdesk marketplace (if you want address confirmation handled for you) or an online shopping store. Find a little diving token and send it their way with a relevant fun message. Next thing you know, you've created a lasting impression and stood out from the reams of emails. No diving to the bottom of an inbox required.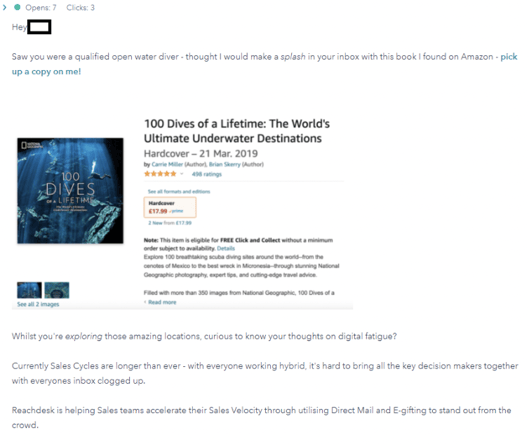 5. Speak to their pain
It should go without saying, but don't forget to include the challenge they face and your solution. Personalization with a gift doesn't mean anything if after that you plug your product without thought for the prospect's needs. At the end of the day, the burden of proof is on you to demonstrate the true reason your product is worth something to them. The gift is merely a relationship builder, albeit an effective one as our statistics prove.

6. Win them over with your messaging
Do as we do! We've created a breakdown of what makes a great sales email, just for you.
Here's a great example from one of our very own team:
The anatomy of a great sales email
Subject line! -

Make it PERSONAL. You want 3-5 words at most. Emily here opted for "Wingardium LevioSAR!" because she was then going on to reference the research she'd done on her prospect. It's a great hook, but do as Emily does and make sure it's relevant.

First sentence - use it to show you're not just blasting out another email to a blank face. You've gone to the effort to find out who they are! If you want them to care about your product, you need to care about them first.
"You clearly have a knack for the creative" - a little compliment, ties into your first sentence, and starts leading into a soft pitch. You should be linking here to what you and your product can help with.
Be! Specific! With! Your! Gift! Here, Emily has suggested a wand from Amazon, continuing to tie into the theme she opened with.
Now's your moment: just after the gift, address the challenge your prospect's persona is facing and ask a question! Bonus points for keeping it in the theme. "Creating magical experiences" speaks to the recipient's role.
Last but not least, share how you can help. Keep it short, sweet and to the point. Remember, your prospects don't have all day.

Watch our latest BDR best practice webinar on demand for the full breakdown by our incredible BDR leads:


Tallulah Grace
Marketing Associate @ Reachdesk