Women just love working at Reachdesk!
It's always nice to be recognized for something that you really care about. Making the amazing, unstoppable women at Reachdesk feel supported and valued is something we're passionate about, so this award means the world. We were ranked #2 in 2022 UK's Best Workplaces™ for Women list by Great Place to Work® UK, among 263 UK-based organizations.
What this recognition confirms about Reachdesk
Reachdesk is a great workplace FOR ALL, including women.

Reachdesk is an organization where people trust each other and employees are able to reach their full human potential, no matter who they are or what they do.

Reachdesk supports the different identities women hold and ensure their daily experiences are positively and consistently experienced

Reachdesk recognizes that women are a valuable talent pool and strives for fair representation of women in the workforce and throughout management.
As Benedict Gautrey, Managing Director of Great Place to Work® UK, explains:
"Now in its fifth year, our 2022 list showcases the largest collection of Best WorkplacesTM for Women that the UK has ever recognized. These results are based on what women themselves have anonymously reported to us about their workplace experience and how well represented they are in the workforce and management. Ensuring people aren't discriminated against, placing positive value on our differences, creating fair access and advancement for all, and fostering a sense of value and empowerment in employees is what being a Great Place to Work® is all about. Only by first identifying the gaps in workers' experiences can organizations truly take action to close them, which is why analyzing employee experience is important. We are proud that the data and insights we provide organizations helps on that continuous journey - and it's wonderful to celebrate so many Best Workplaces™ for Women this year, across all sectors and organizational sizes."


What this award means to us
This award is, above all, a sign we're on the right track to creating the right environment for women to do their best work. Our internal engagement survey shows that 100% of women at Reachdesk feel they belong at work and 100% of women say they are proud of the work they do at Reachdesk. We aim to keep this up and ensure we're only getting better and giving everyone who works at Reachdesk what they need and the recognition they deserve.
To me and the whole People team at Reachdesk, advocating for women within Reachdesk is a critical and personal mission. Here are some of the initiatives we have in support of women:
We want to create a space for women at Reachdesk to come together and support each other in their career development which is why we've launched an internal mentoring program helping women at Reachdesk find female mentors.

We want women at Reachdesk to speak freely and openly about women's issues which is why we've launched a Women's ERG initiative to amplify women's voices on the issues that matter to them.

We want to give every Reachdesk employee the recognition they deserve so we have a calendar of events and educational opportunities to celebrate each one of the many diverse groups that make up who Reachdesk is. We celebrated all women at Reachdesk on International Women's day by highlighting the women in our leadership and inviting the whole company to celebrate women's accomplishments.




Hear it from the women at Reachdesk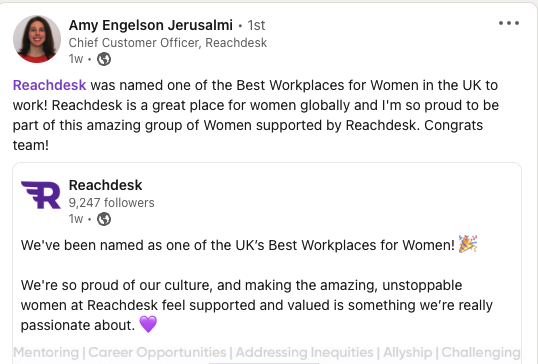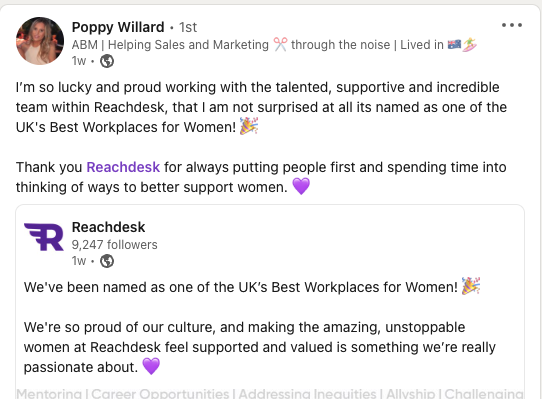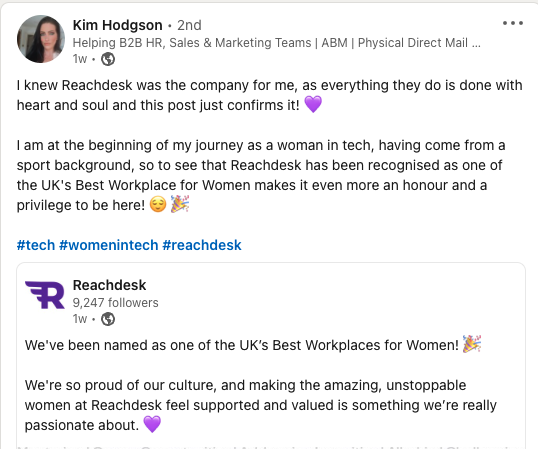 Chelsea Williams
Director of People Ops @ Reachdesk