Using gifts to unlock sales opportunities by Daniel Disney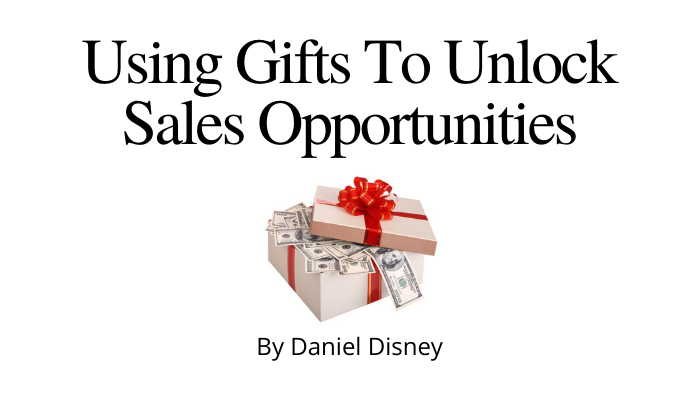 There's a great phrase, "give to get". The idea being that by giving to someone, you're more likely to receive something back.
In sales, unfortunately, most reps don't give. They just ask.
"Can we book a call?"
"Can I send you some information?"
"Are you free to talk?"
"Are you available for a demo?"
This is part of the reason so many salespeople face a lot of rejection on a daily basis. Today, I want to help show you how the power of giving and gifting can help unlock MORE sales opportunities. Let me share a few examples and stories of effective gifting in sales: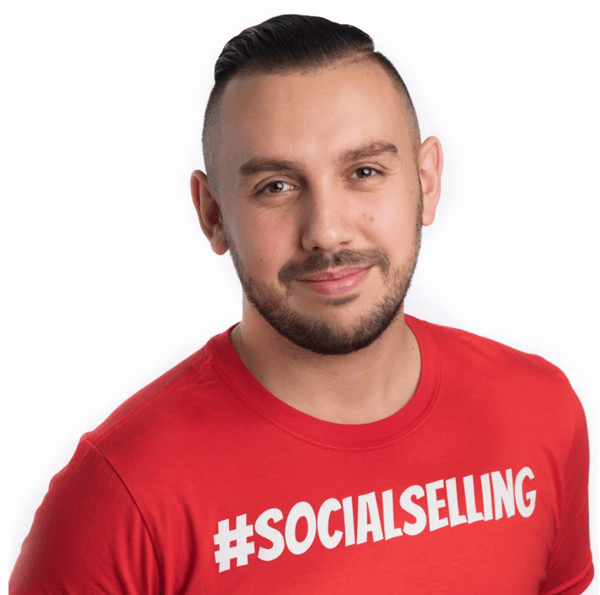 The £1 coin…
Last year I had a prospecting letter come to my office (the first and only one I received). Once opened, I pulled out a compliment slip with a £1 coin taped in the corner. The note read:
Hi Daniel,
Here is a pound. I'd love to see how I can help save you more from the taxman.
Kind Regards,
Accountants.
Simple, but hugely effective. I booked a meeting with them straight away. Let's face it, what did that cost? The £1 coin plus the cost of postage, against the value of a £2,000 deal. The gifting of £1, the "outside the box" thinking, the fact it came through the post (which no one does anymore), all made this form of prospecting SUPER effective.
‍
The orange Twirl…
Late last year some of you will remember in the UK that Cadbury released an orange version of their famous Twirl chocolate bar. As a fan of orange chocolate, I was very excited by this, but after looking at every single shop near me, I couldn't find any! I soon became convinced it was a scam.
Now after telling a sales trainer friend of mine (the legendary Niraj Kapur), he then made it his mission to find one. He looked at loads of shops in London, and after a couple of weeks found them. He sent me one in the post, with a little note.
Niraj wasn't trying to sell me anything, but imagine if he was?
Imagine if during a phone call, or by looking at my social content, he noticed I was desperate for an orange Twirl. Imagine how powerful that would be to showcase the detail, the attention and the effort he was willing to make. And again, what is the cost? The cost of the chocolate bar and postage. Minimal cost, maximum impact.
‍
The customized Lego figure…
After working with a customer of mine for a year, it was close to renewal time. I was keen to secure their business again for another year, so I wanted to do something different. I'd recently seen that you can create your own customized Lego mini figures, so I made a mini figure of them. I packed it up with some other branded goodies and sent it to them. They had never seen personalized Lego figures, let alone received them.
That gift alone may not have won me the renewal, but it certainly helped and certainly made a huge impact. Again, minimal cost, maximum impact.
‍
The book gift…
I was recently approached by someone working at Reachdesk, the gifting software platform for salespeople. Curious, I agreed to a demo. The day before the demo I received an email from the rep telling me they were excited to chat tomorrow and attached to that email was a £5 gift card for Costa Coffee or Starbucks so I could enjoy a nice coffee while we chat.
During the demo, the rep mentioned a book they had just read and asked whether I had read it as well, which I hadn't. A couple of days later, after the demo, I received that book from them alongside one of their branded flasks. It was an amazing gesture that really stood out to me. I receive demos from sales enablement platforms weekly, yet they were the ONLY ones to send me a gift.
I'm now a customer for them.
Not only that, but it inspired me to write this blog for them.
You see, I've used gifting for most of my sales career. I've sent books, birthday cards, new house cards, DVD's, chocolates, Lego figures etc. The problem is this can take up a lot of time for an individual sales rep to do.
Seeing the Reachdesk tool genuinely blew my mind.
Super easy to use, super simple, with just a few clicks you can send a variety of gifts to prospects and customers. Not just that, but it can all be tracked as well.

Here's my advice…
If you're not using gifts to unlock sales opportunities or build relationships with customers, I'd highly recommend starting to. I'd also highly recommend checking Reachdesk out. They take a lot of the leg work away from you, making it easier and trackable.
Give a gift to win a sale.
The Daily Sales and author of The Million-Pound LinkedIn Message
Ben Smith
BDR Team Lead @ Reachdesk