Reachdesk Unwrapped: How we research prospects before we send an email
A prospect email without some research sprinkled on top is like serving fries without sauce. Sure, it can be consumed, but will it leave an impression?
Here at Reachdesk, a passion for personalization is embedded in our DNA – and thorough research is obviously a huge part of this. We go way beyond inserting a prospect's name into a subject line (although this can boost open rates by 26%, so we're not knocking it!).
A truly personalized email should touch on the prospect's business needs and personal interests in a way that really brightens up their inbox. But it's not about simply wowing the prospect with our strong attention to detail. The long-term goal is to make them curious about how rewarding a partnership with us would be.
After all, if the prospect sees that we're putting that much time and effort into an initial email, it's reasonable (and accurate) for them to assume that we would pull out all the stops for a customer.
If sleuthing doesn't come to you naturally and you're not quite sure where to start, don't worry. For better or for worse, the internet makes it incredibly easy to uncover facts and tidbits about pretty much anyone.
So before you hit "send" on your next prospect email, read this blog to discover some of my favorite tips for researching prospects.
1. Nail down the essentials
You want to have enough information to enable you to walk a mile in your prospect's shoes. This will help you speak their language and create messaging that lands.
Here are some questions you'll want to answer in order to a build a structure for your email...
What is the overarching business strategy?
How does your prospect's role directly contribute to this strategy?
What challenges are they facing?
What initiatives are they running?
What action points will be critical to their success?
2. Don't overthink it
Performing research that provides high-quality results doesn't have to take all day. It doesn't even have to take longer than a coffee break.
When time is tight, Reachdesk's Sales and BDR teams swear by a framework called the "3x3 rule". The goal is to dig up three pieces of information in three minutes – one on the account, one on the contact, one on the industry.
For example, if I had three minutes to prepare an email to Gabriele Markus, an imaginary Director of Information Security at an imaginary cybersecurity company, here's how I would spend my time…
First minute: The company's website
Head straight to the About Us page. Even if you already know what the company does and what their mission is, you'll also want to know exactly how they describe themselves, so you can use that language on your call with the contact.
Second minute: The contact's LinkedIn
If your contact has other (public) social media profiles, by all means, check those out too. But there's a stronger chance that they're on LinkedIn. Take a look at the topics they've posted about and the content they've shared. Keep an eye out for any hints around what they're interested in outside of work.
Third minute: Industry news outlets and digests
Take a quick trip to a reputable news outlet for the industry in question. In this instance, it's cybersecurity, so I would look at websites like CyberScoop and The Hacker News for a high-level understanding of the hot-button issues affecting the industry.
3. Use tools you can trust
You don't have to go it alone. Here are some of my favorite tools and platforms for performing research:
4. Make the most of mutuals
The great thing about performing research is that it can make your job easier in unexpected ways. When looking up a prospect, you may stumble upon a mutual contact that you've either worked with or had positive experiences with in the past.
If I have a good relationship with that contact, then I'll ask them to make an introduction. Having that connection can seriously help you stand out and enhance your credibility in the eyes of prospects.
5. Cut the fluff
When writing your email, instinct might be to lead with all the reasons why your product is amazing, but try to avoid falling into this trap.
Stay focused on showcasing the research you've done on the prospect's current circumstances. The brutal truth is that people don't care about your product – they care about the problems they are facing and how you can not only solve them, but also set them up for future success.
Once you've established how knowledgeable you are of the prospect's pain points, the best way to talk about your product is by including relevant case studies from customers that you've helped overcome similar challenges.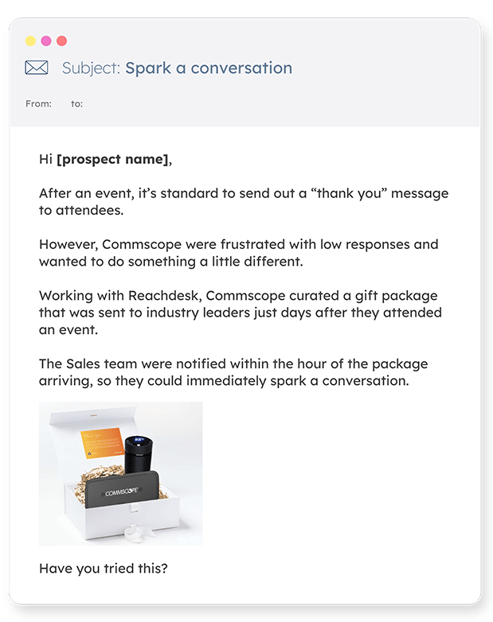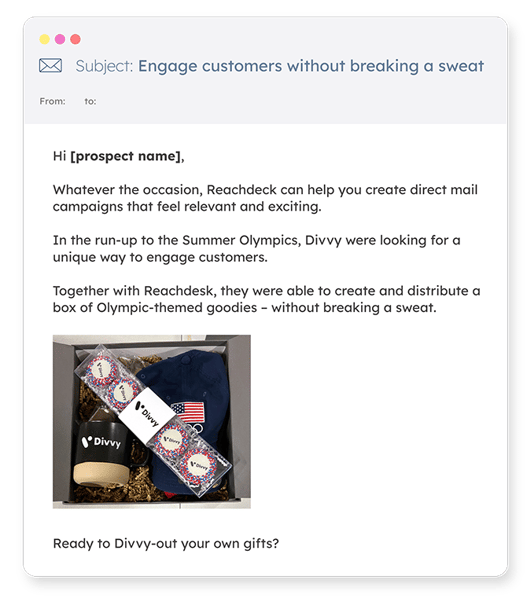 Ready to research?
I hope these tips help you unlock your inner Sherlock Holmes and undertake some top-notch internet sleuthing.
While my approach to outreach is to stoke the prospect's curiosity, I've found the best way for me to achieve this is by following my own curiosity and researching the prospect in as much detail as possible. By becoming prospect-focused and joining the dots, you never know what nuggets of gold you'll uncover.
Ben Smith
Director of Global Business Development @ Reachdesk