Reachdesk Release Update June 22
We all know how important it is to have a strong end to the quarter, and it has been no exception here at Reachdesk. With this in mind, we've added a host of fantastic new features and enhancements to make sure next quarter is even stronger than the last.
🚀 New features
⭐️ Send anything from the Marketplace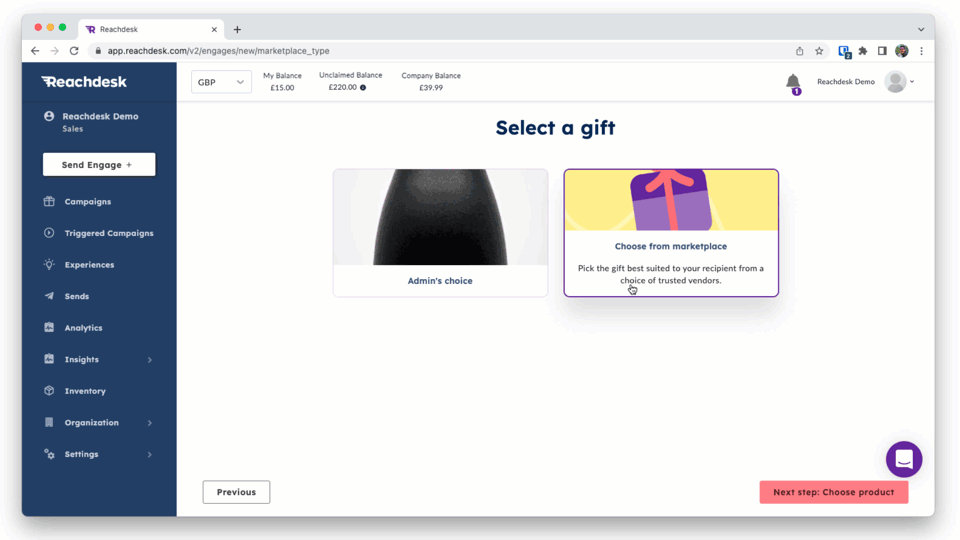 More flexibility for senders, less work for admins - senders can now select any item from the Reachdesk Marketplace from a single budget-limited campaign, enabling them to maximise personalisation and relevance when sending a gift. Find out more...
😍 New flow for Marketplace and bundle sends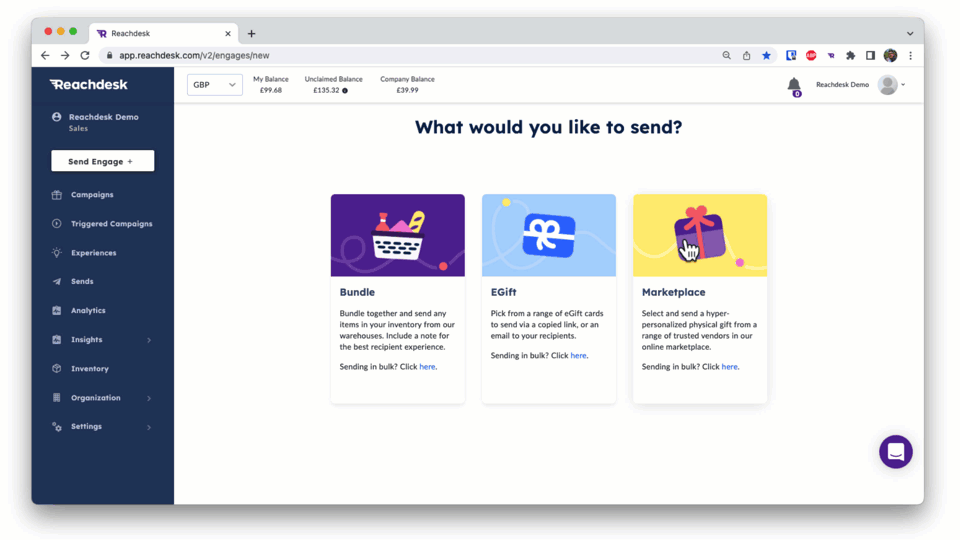 Following client feedback and extensive user testing, we've improved the send flow for bundles and Marketplace items making it smoother and more intuitive for senders, making it easier than ever before to send gifts and resulting in fewer queries to your admins. Find out more...
💜 Three new HRIS integrations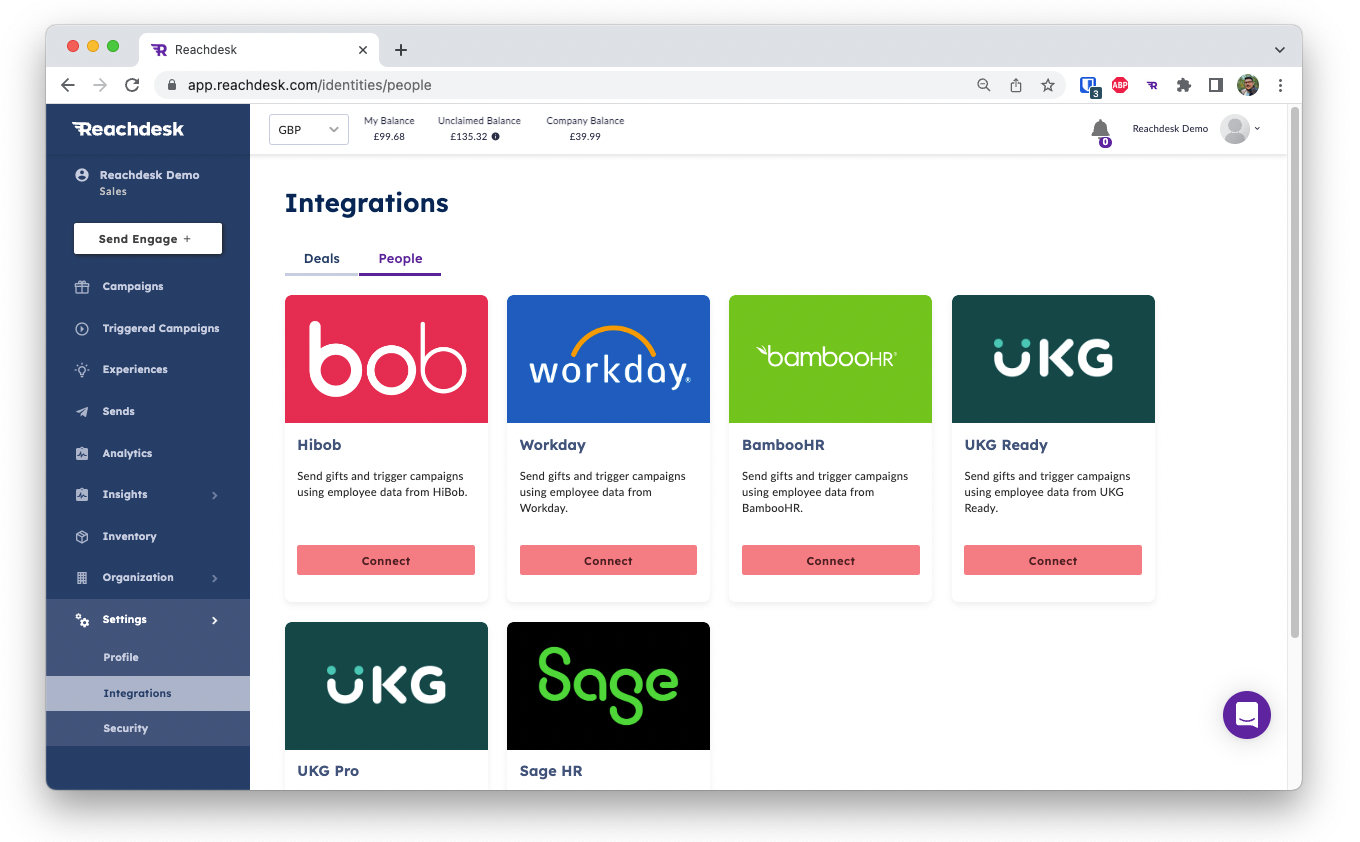 We've doubled the number of leading HRIS supported by Reachdesk for People, adding integrations with UKG Ready, UKG Pro and Sage HR. Its integration with your core HR system and automated sending eliminate the time-consuming manual parts of employee gifting, enabling busy people teams to focus on developing a culture of appreciation, supporting DEI initiatives, and other strategic value-add work.
Find out more:
⬇️ Export inventory as CSV
Following several client requests, we've added new functionality enabling admins and campaign managers to report on a range of data relating to their inventories, giving better visibility and oversight of stock and inventory.
🚢 Populate tracking for ship notices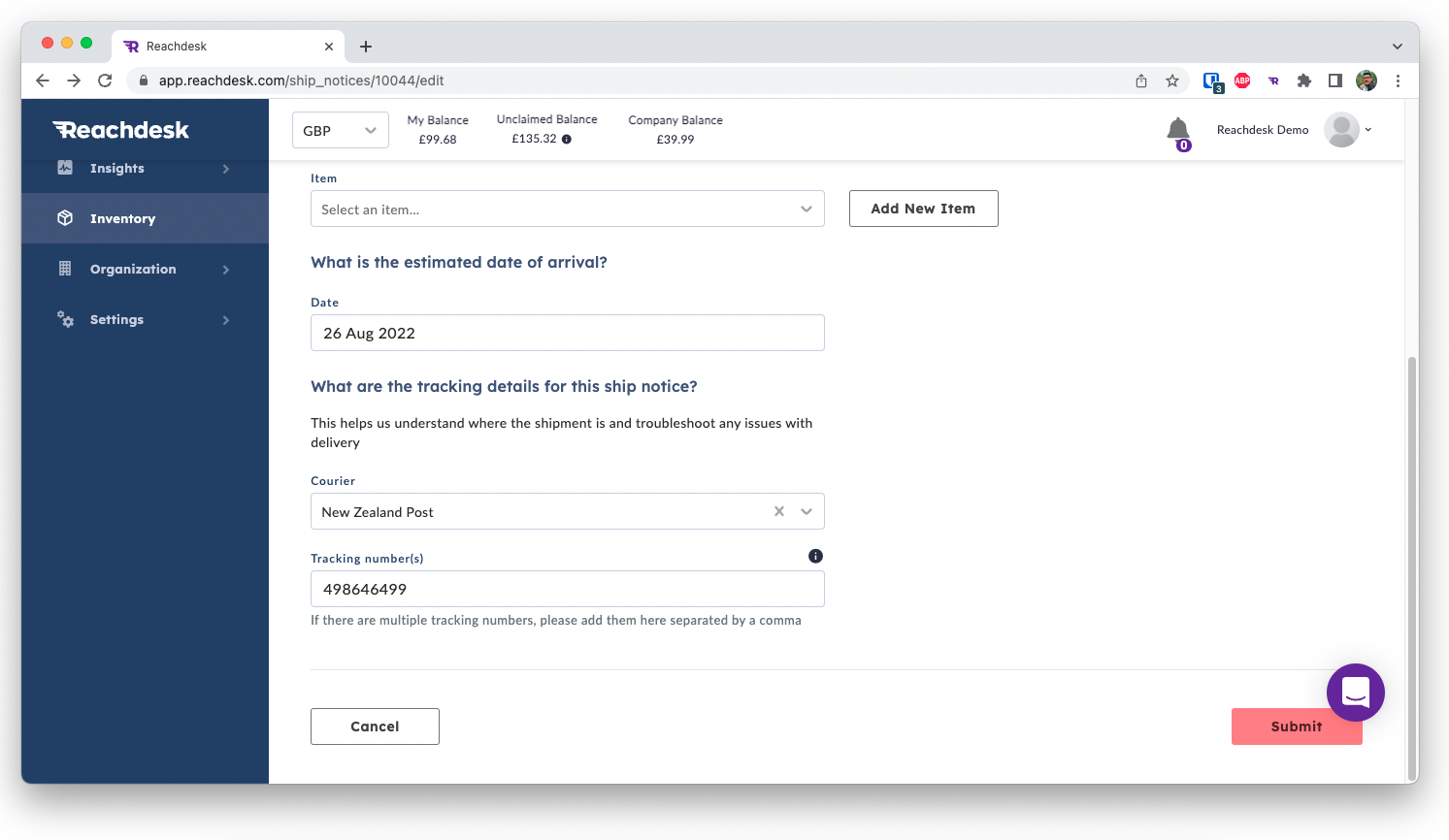 Admins and campaign managers can now input the courier and tracking number when creating and updating a ship notice. This allows for easier identification of incoming stock and easier tracking of ship notices.
❗️ Low stock and balance alerts
Stay on top of inventory and funds. You can now request to be sent weekly automated emails that alert you when stocks and balances fall below a set level.
🛠 Enhancements
Shorter gift URLs
Reachdesk gift urls are now shorter, which makes them safer and easier to share.
Validate address fields for bundle sends is 30 characters max
Some of our carriers have restrictions on the number of characters for address fields. This caused a few bundles to be put on hold because the addresses were too long. We have now enforced a validation so that for bundles, each address field has to be a maximum of 30 characters.
And there you have it - a host of amazing new features to get involved with. As always, this new functionality comes from a blend of proactive innovation from our incredible tech team and co-innovation with our wonderful clients. If you have anything you'd love to see in Reachdesk - or you have any questions - please get in touch.
Andy Willetts
Product Marketing Manager @ Reachdesk