Level up your outreach with four new meeting scheduler integrations
We know that meetings remain a fundamental part of most companies' sales processes, enabling reps to build relationships with potential customers and really get to the heart of the problem the prospect is trying to solve.
But we also know that actually getting meetings booked is not always straightforward. Unfortunately there are a number of obstacles that stand between buyer and seller ever speaking to each other.
First is the competition for attention. Chances are your prospect receives dozens of emails, messages and calls every single day from companies trying to sell them something. The difficulty of standing out in crowded inboxes is a very real pain for most salespeople.
On top of this is the actual difficulty of finding time in busy calendars. Sending multiple emails back and forth to agree a slot that works for both parties is a huge waste of time for both the rep and the prospect. The more friction there is in the buying process, the less chance your salespeople have of closing those deals.
But even when the meeting is booked there's still the risk of the dreaded no-show. There are few worse feelings for a business development representative than booking a meeting with an exciting prospect only to get a last-minute cancellation or - even worse - being stood up and back to square one.
With all these considerations, it's a miracle BDRs get any meetings booked.
Fortunately tech is here to help:
Meeting scheduling tools remove friction from the buying process, making it simple for your reps to share their calendars and prospects book the slot that suits them best.
Gifting and direct mail tools help your reps stand out and break through the digital noise, while making a positive impression and building stronger relationships.
Savvy commercial teams have been harnessing one or both of these types of tools to book more meetings and win more deals, but until now it has always taken extra time and resource for the rep to juggle two separate tools.
Back in May, we launched an integration with Chili Piper that made it easy for our clients to send gifting-enhanced meeting requests.
Today, we're pleased to announce that we have expanded this functionality to integrate with a further four meeting scheduling tools: Calendly, Salesloft Meetings, Hubspot Meetings, and Outreach Meetings.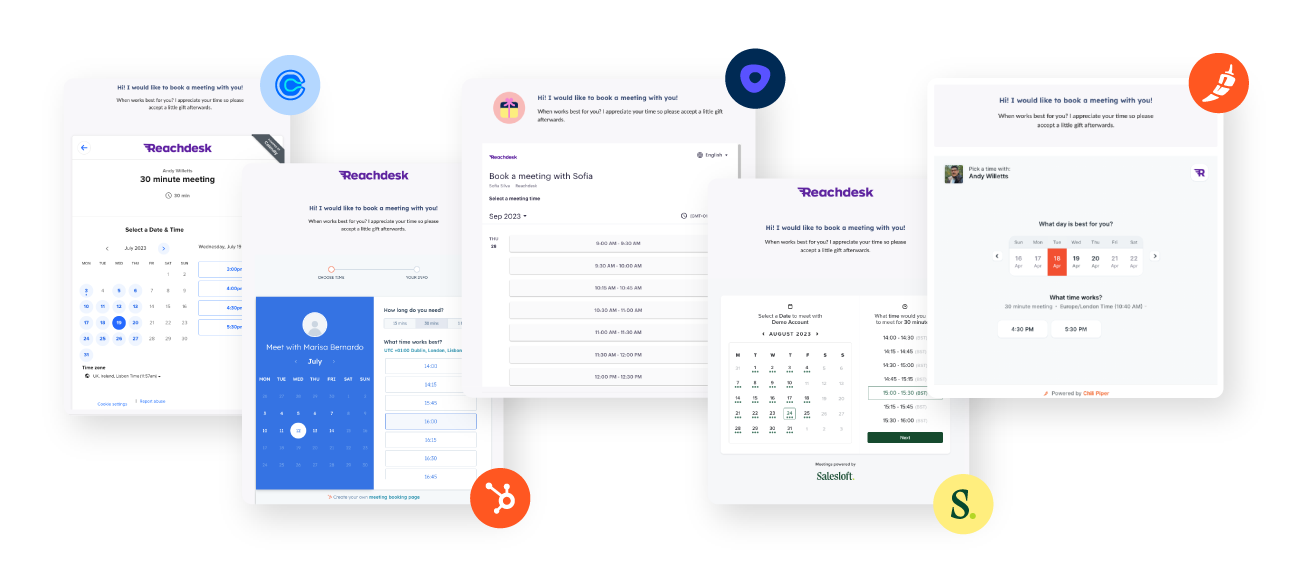 By integrating Reachdesk with one of our five supported meeting scheduling tools, you make it a breeze for your reps to send gift-enhanced meeting requests to their prospects.
⭐️ Stand out in crowded inboxes
Your buyers are being bombarded with requests every single day. By incorporating gifts into your outreach your reps are much better placed to grab prospects' attention and secure more meetings with key accounts.
🤝 Boost your team's efficiency
Every minute your reps spend on admin is time that they're not out there selling. Minimize the tools they have to juggle and maximize their output with seamless gift-enhanced meeting requests.
🫥 No more no-shows
Increase your meeting show rate by requiring recipients to schedule a meeting before claiming their gift. By placing the meeting before the gift, you filter out contacts that don't have a genuine interest in your offering, saving your reps' time for prospects that are more likely to convert.
Features for business developers, by business developers
We built this functionality in partnership with a number of our clients - plus our own expert business development team - so we've added a package of features specifically designed to help your reps crush their targets:
⚙️ Seamlessly slot into your workflows
Tackle the hassle of booking meetings head-on. Send meeting-linked gifts directly to potential clients via email, socials, In-Mail, or through your existing CRM automation flows. Perfect for one-to-one or mass outreach to event attendees, prospects, or customer groups, saving time and effort.
📅 Effortless scheduling for all your team
Ease the burden of coordinating meetings internally. Reachdesk's meeting scheduler integrations allow your reps to choose between their own booking links or those of an account executive, minimizing their admin burden and breaking down scheduling roadblocks.
🌍 A world of gifting options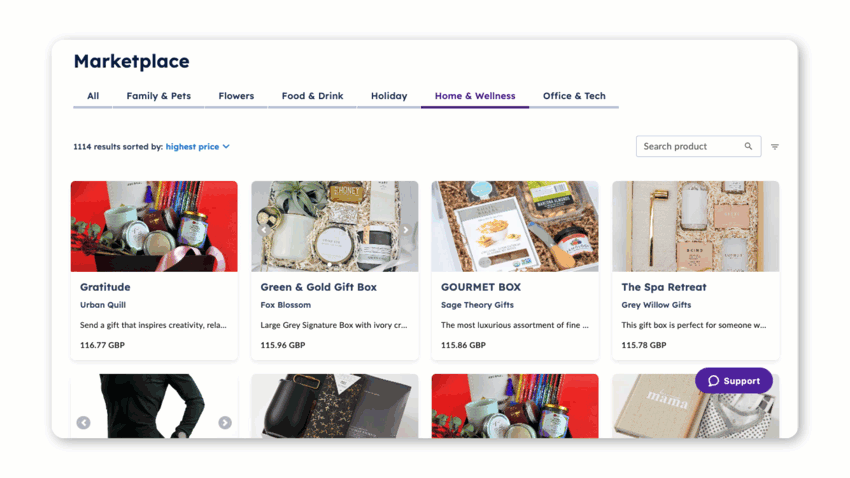 Give your reps the choice of more than 5,200 physical items worldwide from the biggest global marketplace in the industry, plus 3,600+ eGift brands and branded swag spanning more than 170 countries, effortlessly solving the challenge of personalized global prospecting, no matter where you do business.
💜 A relevant offer every time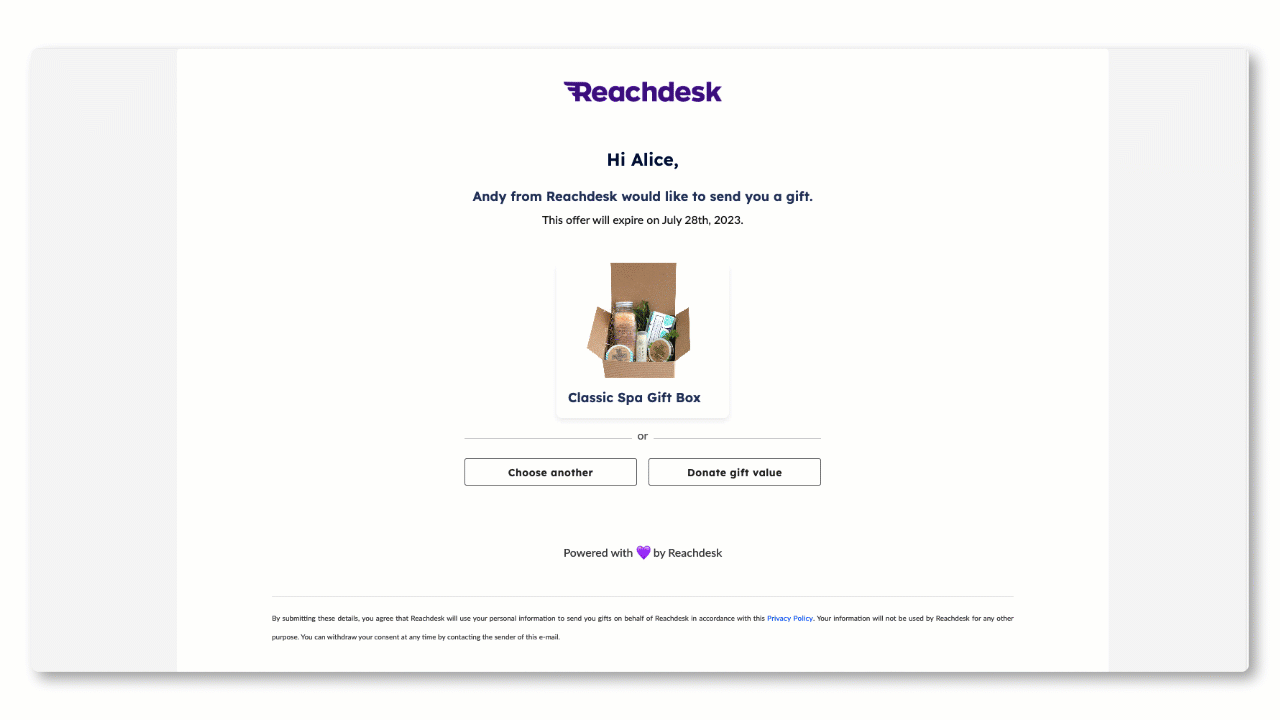 Your reps are sick of being told "thanks, but no thanks". With Reachdesk, your recipients can exchange their gift for another item from our marketplace or donate the value of the gift to charity, helping you keep your close rates high.
🤖 Data-driven strategies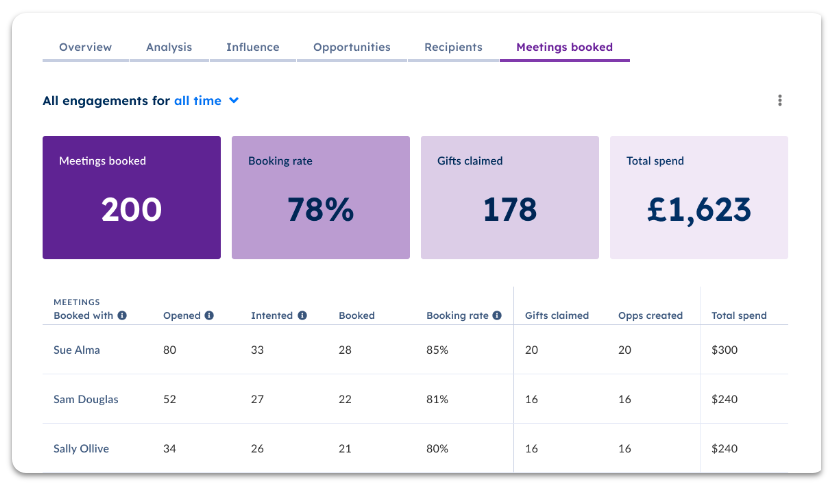 Reachdesk doesn't just stop at sending out gifts. Our powerful analytics tool enables you to make smarter decisions about your tactics and strategy driven by data. With valuable engagement insights and comprehensive ROI reporting it's never been easier to expand on winning strategies and offer targeted coaching in areas of underperformance.
Let's dive in!
We've worked to make this functionality as simple as possible to use:
Incorporate a gift-enhanced booking link into your outreach or landing pages.

Your prospect selects a suitable meeting time and secures a slot with a rep.

Show your gratitude to prospects by automatically sending a gift without disrupting your rep's workflow.

Evaluate impact and ROI with powerful analytics

Rinse and repeat!
Here's an example of how it works with Calendly (although you can also try guided tours of the experiences for Salesloft Meetings, Hubspot Meetings, and Outreach Meetings on their respective pages in our Integrations section).
Best of all, the integrations come at no extra cost for Reachdesk clients that use Calendly, Salesloft Meetings, Hubspot Meetings, Outreach Meetings, or Chili Piper. They're already activated in your Reachdesk instance, so you can start building and sending gift-enhanced meeting booking campaigns today.
For a comprehensive guide on how to make the most of this functionality, refer to our help guides. And don't hesitate to reach out to your dedicated client success manager with any questions.
Curious about Reachdesk and how it can help you book more meetings? Click here to connect with our team.
Andy Willetts
Product Marketing Manager @ Reachdesk