4 ways to use corporate gifting for recruitment
This blog post is part of our How to Gift Like a Reachdesker series, where we reveal how different members of our team make the most of Reachdesk every day.
‍
Recruiters! How are we all doing? It's wild out there, isn't it? You're probably either having the time of your life working in an agency, roles coming out of your ears and commission checks boosting your bank account, or you're in internal talent acquisition, wondering why, in 'the great reshuffle,' nobody is shuffling on down to join your team.
One thing's for sure, the 'great resignation' has benefitted some more than others. For candidates, it's like Christmas keeps on coming - there's so much choice and so many opportunities! Everyone is moving with urgency and that means you have to be quick if you want to secure the best talent.
Hi, I'm Laura, a veteran of Reachdesk's talent team, and I'm here to bring some calm to all this chaos. I joined the team in May 2021 as our first UK Talent hire, and since then we have grown our headcount by 300%. Yes, you read that correctly. Impressive, right?
I fundamentally believe that our inclusion of direct mail and gifting throughout our recruitment lifecycle has been a key contributor to this success. It's so simple, yet so few people do it. We like to share the love here at Reachdesk, so I want to give you some actionable advice on how to use direct mail and gifting in recruitment to hit your goals, whether agency or internal, for candidate attraction or business development!
‍
1. Use personalization to attract top talent
Why do our clients use Reachdesk? To break through the digital noise and build stronger relationships with hyper-personalized gifting, of course! Just as when selling a product, your ultimate goal when recruiting is to get in front of the right person and demonstrate how you can add value to them.
High-caliber senior-level talent working at the top of their game are being contacted about opportunities every second of the day. Don't just be another email or inMail. Learn about them, just as you'd learn about a new client before getting in touch with them.
Make a real impression by sending a personalized gift that shows you've done your research. Demonstrate your commitment to your people before they've even joined your business. But make it unique to them!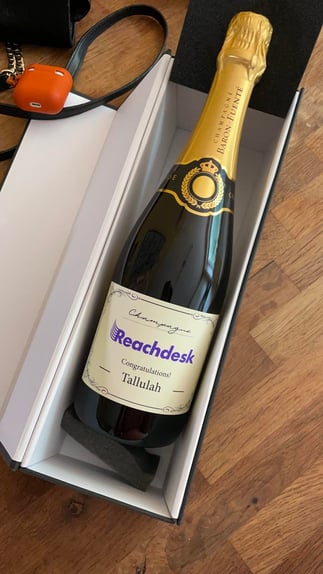 ‍
2. Stand out from the crowd and win big contracts
In a competitive agency recruitment climate, competition for contracts is fierce with tens, maybe hundreds of firms doing everything they can to win that lucrative business. To come out on top, you need to demonstrate to your potential clients that you are a forward-thinking, technology-enabled organization that will go above and beyond to secure the best talent possible.
By sending a personalized gift, branded with your potential client's logo, you can not only stand out in the crowd in a fun, creative way but also give them a taste of the unique methods you have at your fingertips for securing their new hires. A literal taste if you send them cupcakes!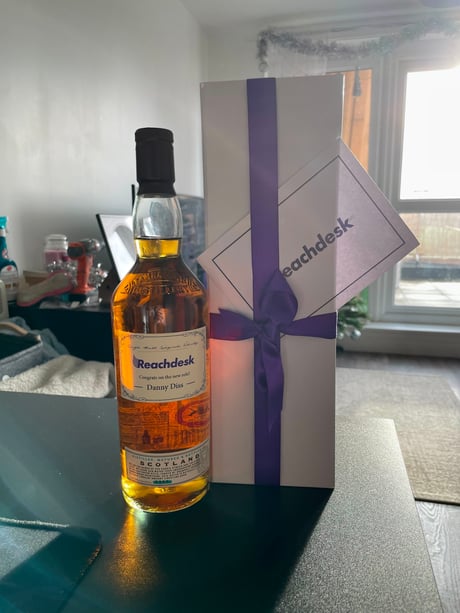 ‍
‍
3. Surprise and delight to improve candidate engagement
In 2022, the majority of interviews are conducted via Zoom, and however you may feel about it, candidates sometimes take these appointments less seriously than if they were in person. It can be extremely frustrating to have booked a full day of calls, only for half of them to not turn up.
One of the Reachdesk talent team's favorite ways to boost candidate engagement? Sending a coffee voucher via email before the interview takes place.
It's a cute way to replicate the vibe of a casual coffee shop meet-up while providing a gesture of thanks for that candidate's time. It's a really simple surprise that makes people feel really valued, especially if you utilize it before the initial screen call.
Personally, I also love to send out a gift card when a candidate is completing a task as part of our recruitment process. It's a big ask for a candidate to find even an hour out of their week to do this, so a gift card is a great way to show our appreciation. A great example of this is to send a food delivery voucher ahead of their task deadline with some fun messaging around feeding creativity! You can also allow them to choose their own gift card - there are hundreds of options on Reachdesk!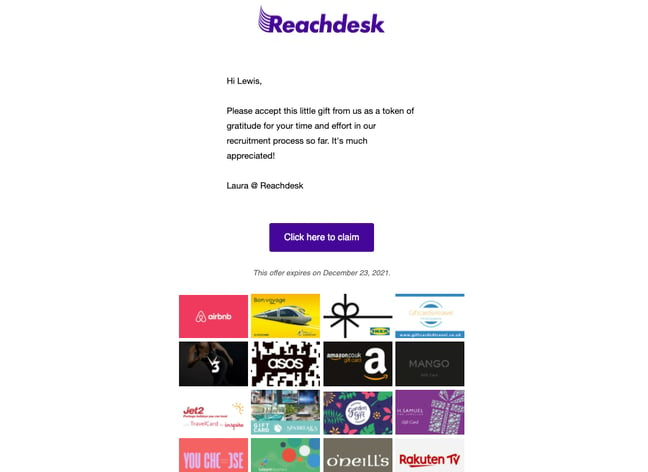 ‍
4. Don't Sleep on Great Talent - Nurture Them With Gifting
‍When you're hiring, or even when you're engaging in business development, sometimes the timing is just off and it's not the right time to move forward. Still, it's important to keep those relationships alive so that when the time is right, that person comes to you first.
Gifting is an ideal way to keep your company top of mind over long periods of time! Surprises never go out of fashion, so keep in touch with people by sending a gift to congratulate them on a big life event, or simply to check in with them to see if it's time to get the ball rolling.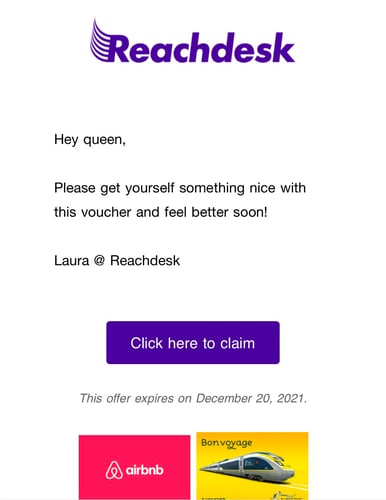 ‍
Wrapping up
To grow at pace in 2022 your business needs to stand out. If you've been thinking about using direct mail but have never taken the plunge, now is the time to start!
Laura Holcombe
Talent Acquisition Specialist @ Reachdesk