Thales drives pipeline with out-of-this-world campaigns
The challenge
Thales is a global organization, with more than 77,000 employees based across five continents.
Wiebke Macrae is the Global Head of Demand Generation & ABM for Thales Cloud Protection & Licensing (CPL). Her team is split between two different solution areas: Data Security and Identity & Access Management. One part of the team oversees marketing for encryption products, while the other oversees marketing for identity and authentication solutions.
The Demand Generation & ABM team's primary goal is generating pipeline in partnership with the Field Marketing team. In Wiebke's experience, one of the biggest obstacles to achieving this has been a general hesitance among prospects to share their information as quickly as they would have before.
In a post-GDPR landscape, this trend isn't particularly surprising – especially when you consider that many people come to Thales in search of a cybersecurity solution. Wiebke notes that, for many prospects, filling out a form in exchange for a whitepaper download is no longer a compelling offer. She knew that her team would need to start offering something extra in order to build relationships with prospects.
Before partnering with Reachdesk, Wiebke's team had tried their hand at gifting and direct mail independently. However, they were reluctant to request and store the personal details of their prospects. Overall, the stress of executing each delivery made gifting a lot less appealing.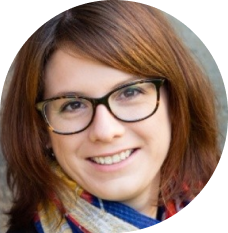 "Reachdesk has really helped us personalize our outreach. Someone who receives a Reachdesk gift feels treated very nicely – even if it's only a small thing."
Wiebke Macrae,
Global Head of Demand Generation & ABM, Thales
The solution
Thales partnered with Reachdesk in August 2022. The tool was swiftly adopted by their APAC and EMEA teams as a way to improve conversion rates and optimize their ABM campaigns. The team in North America will soon receive training so they can get started with Reachdesk.
Reachdesk has enabled Thales to diversify their outreach. Instead of relying on gated content to start conversations, the team can now send unique, personalized gifts.
In order to drive webinar attendance, prospects are sent a voucher beforehand so they can enjoy a coffee on the house. Those who signed up for a webinar but did not attend are sent a "Sorry we missed you" message, along with a link to the webinar recording and a coffee voucher.
According to Wiebke, Reachdesk has relieved the team of some "major headaches" – from the storage and management of prospect data in a GDPR-compliant way, to overseeing the entire gifting process.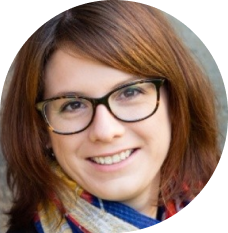 "Compliance was a huge factor for us when choosing a gifting platform. In addition to its global reach and extensive selection of gifts, Reachdesk gives us peace of mind from a GDPR perspective."
Wiebke Macrae,
Global Head of Demand Generation & ABM, Thales
The results
Thales has been using Reachdesk to run campaigns that are out of this world – both internally and externally.
"Data Universe" campaign
This always-on campaign in support of Thales' CipherTrust product was originally launched in summer 2022, prior to their partnership with Reachdesk. The team later decided that the campaign would benefit from a gifting component.
The primary message was that the CipherTrust data security platform is versatile enough to manage and protect all the data in the universe. Wiebke and her team worked with their Reachdesk Project Manager to create an immersive, space-themed experience.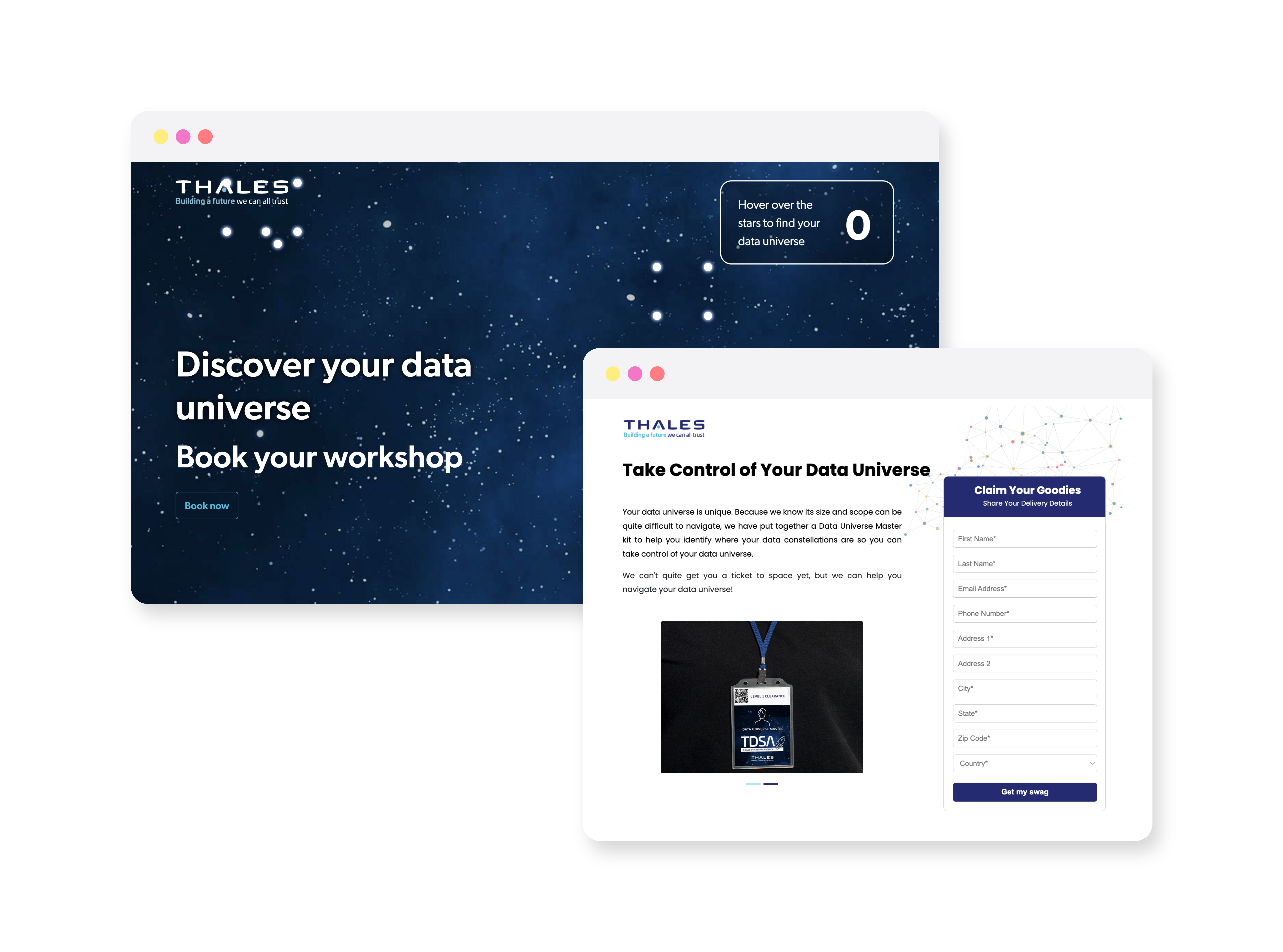 Prospects were invited to become a Data Universe Master by booking a place on a data security workshop. They were even sent a badge with this title in NASA-esque branding, plus a selection of intergalactic gifts including a mug, desk mat, and sachets of moon tea.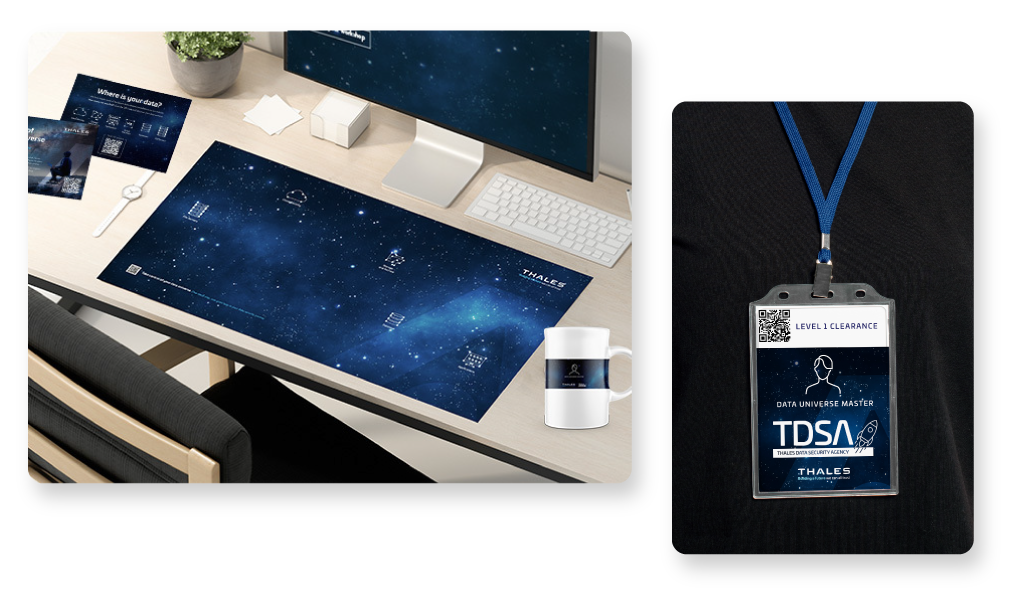 "Lift" campaign
Thales has a strong sales team. Not just because they're highly skilled salespeople – many of them also happen to be passionate weight lifters.
When it came to running an internal gifting campaign to promote awareness of Reachdesk and push the sales team to close Q4 2022 on a high, Wiebke and her team didn't have to break a sweat.
The sales team were given access to a Reachdesk landing page where they could order a t-shirt emblazoned with an ingenious slogan designed to appeal to Thales' gym bunnies: "If the bar ain't bending, you're just pretending"
By the time the first sales kick-off meeting of 2023 rolled around, the t-shirts were a fashion staple in the office, while the sales teams felt energized and ready to take advantage of direct mail and gifting using Reachdesk.
Highlights:
In less than a year, Thales' partnership with Reachdesk has yielded several benefits.
Higher conversion rates
Stress-free, GDPR-compliant management of prospect data
Immersive gifting campaigns for prospects
Engaging internal campaigns to motivate the sales team and promote personalized gifting
About Thales
Thales is a global technology leader. In the markets of defense and security, aerospace and space, digital identity and security, and transport, Thales provides solutions, services and products to help its customers – companies, organizations, and governments – to carry out their critical missions.
Industry: IT, Cybersecurity, Aerospace, Space, Defence, Ground transportation

Company size: 77,000+ employees