Prophet puts employees first with global gifting campaigns
The challenge
In 2022, Prophet was experiencing rapid growth and a surge in hiring demand. The firm was seeking new ways to integrate talent and set them up for success, while also driving employee development and retention.
The People team strives to cultivate a sense of community among the firm's distributed workforce across North America, EMEA, and Asia. At the time, all employees were still working remotely, so creating a consistent experience that makes them feel part of something bigger is a key priority.
Before partnering with Reachdesk in 2021, Prophet relied on a manual gifting process for new hires. Not only was this method time consuming, but without the support of a global gifting solution, the firm struggled to offer the same gifts to recipients across different regions.
This was a pain point, as Prophet was onboarding approximately 30 new joiners every month – yes, you read that correctly – throughout 2022. While the welcome packs were well received, one of their main goals with Reachdesk was to provide a consistent gifting experience that gave employees a stronger sense of belonging.
Because of this growth, Prophet also realized they would need to refresh their employee value proposition (EVP) and company values, and were eager to activate and launch them with a compelling gifting approach.
"In 2022, my team and I were onboarding 30 employees a month. We couldn't have done our jobs without the Reachdesk platform."
David Sherin,
Vice President of Employee Experience, Prophet
The solution
Supported by Reachdesk, Prophet's People team enhanced their employee onboarding strategy. Wherever they are in the world, all new joiners now receive the same gift bundle featuring branded swag within two weeks of commencing their role.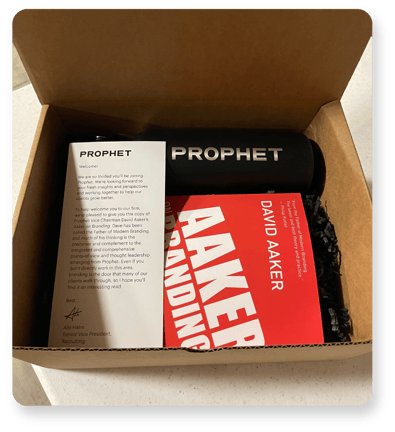 Additionally, Prophet launched their new EVP and company values with a strategic focus on "Uncommon growth by and for uncommon people''. After brainstorming ways to generate fanfare with Tara, their Reachdesk Project Manager, the People team decided to send a collection of "uncommon items" to 700 employees across North America, EMEA, and Asia.
These items included a Cotopaxi hip pack made from upcycled materials in a variety of patterns, making each one truly unique and different, plus a selection of badges they could use to decorate it.
Recipients were also sent a custom deck of cards featuring icons that represented the firm's newly updated values, plus questions that Prophet employees could ask to learn more about each other through the new company values.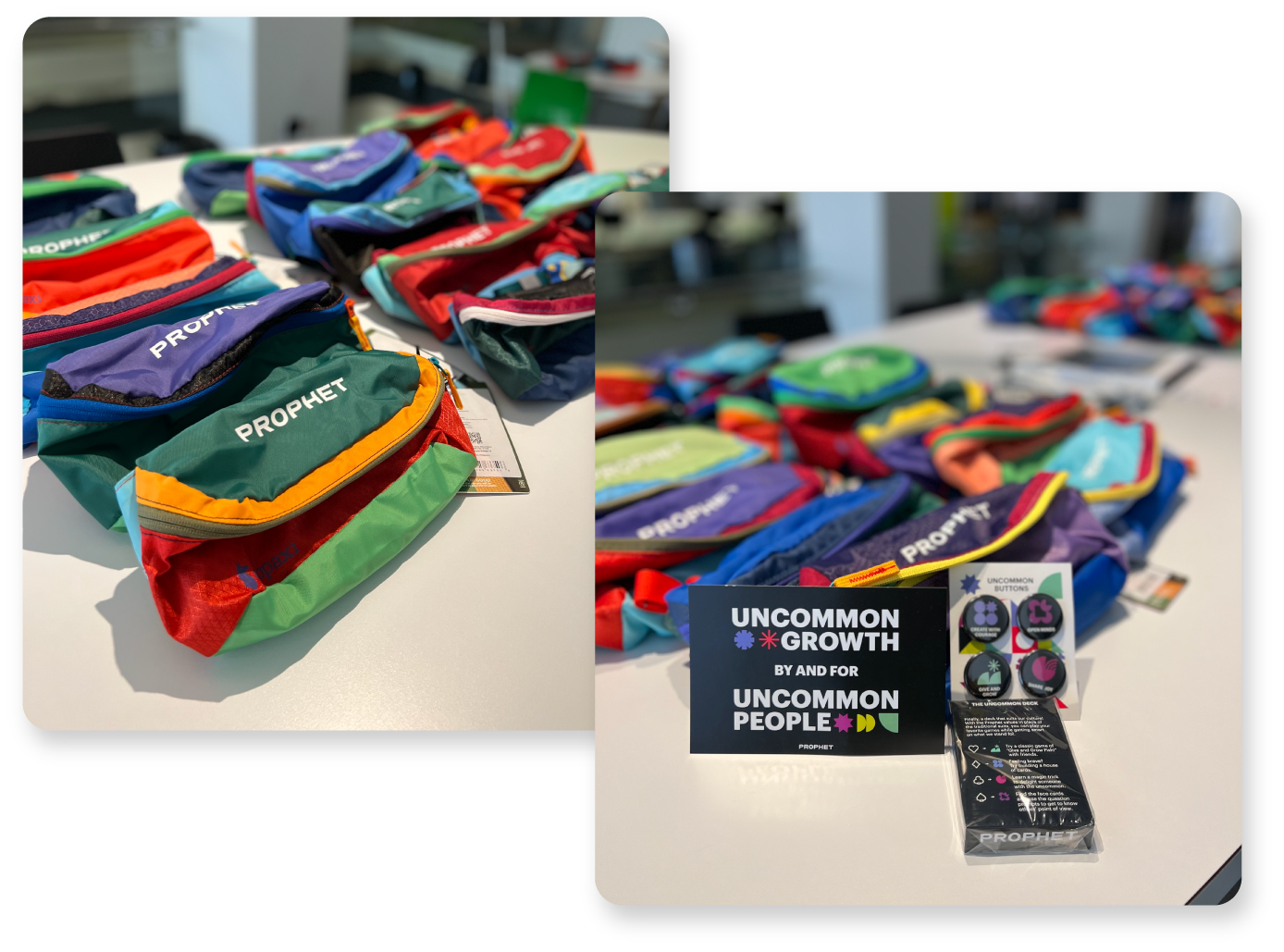 "I appreciate how responsive the team is. Whether it's someone from project management, customer success, accounts, or an executive, it's just been a really great experience."
David Sherin,
Vice President of Employee Experience, Prophet
The results
David Sherin, Vice President of Employee Experience, notes that the ability to ensure everyone receives the same gifting experience "right out of the gate" has significantly helped maintain a sense of community among Prophet's workforce.
Prophet's quarterly engagement pulse surveys reveal "a really great sense of belonging" across both veteran employees and new joiners, which is fueled by the campaigns the firm has been able to deliver with Reachdesk.
In addition to employee and client gifting, the team has even used Reachdesk to support the launch of a book written by one of Prophet's board members, and shipped it to clients worldwide!
Looking to the future, David hopes to integrate Reachdesk with HR platform Bob so the People team can effortlessly track and celebrate employee milestones such as promotions and anniversaries.
Highlights:
Consistent gifting experience for employees across the globe
Improved company culture with strong "sense of belonging"
Project Management support for gifting and direct mail campaigns
"It's always felt like a true partnership, never like a vendor-client dynamic – which to me is always a sign of a good relationship."
David Sherin,
Vice President of Employee Experience, Prophet

About Prophet
Prophet unleashes the power of people, businesses, and brands to move society forward. Their interdisciplinary experts across consulting, experience and creative capabilities enable them to quickly implement and accelerate their clients' growth goals.

Industry: Growth & Transformation, Consulting

Company size: 500